Gold on Wednesday ended lower for the third straight day. New York gold futures dropped 0.3 percent and silver fell 0.9 percent. Platinum gained 1.0 percent while oil surged 6.4 percent.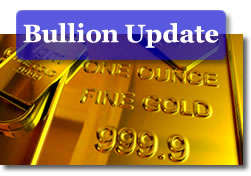 Stocks were on the losing end as well, with the Dow, S&P and Nasdaq falling 1.1 percent, 1.0 percent and 1.1 percent, respectively.
April crude-oil smashed forward, rising $2.54 to close at $42.50 a barrel. AAA said the average price for regular unleaded gasoline fell nearly a cent to $1.891 a gallon.
March silver declined 12 cents to close to $13.875 an ounce.
April platinum climbed $10.40 to $1,059.10 an ounce
Gold for April delivery dropped $3.30 to end at $966.20 an ounce.
"The perception is that the economy is still pretty bad and that doesn't change with just one speech [from the President]," Frank McGhee, the head dealer at Integrated Brokerage Services LLC in Chicago, was quoted on Bloomberg. "They're trying to turn a very big boat. Gold benefits from the uncertainty and the recovery."
"Profit taking was evident across the precious complex," James Moore, a metals analyst at TheBullionDesk.com, was quoted on MarketWatch. "We expect the current dip to be short lived as safe-haven seekers emerge as bargain hunters."
Gold, considered a hedge during times of high inflation and economic uncertainty, tends to follow oil and move opposite to the U.S. dollar. A rising greenback makes dollar-denominated commodities, like bullion, more expensive for holders of other world currencies.
In spot trading, the London afternoon gold-fixing price — a benchmark for gold traded directly between big institutions — stood at $978.50 an ounce. London silver and platinum were at $13.81 and $1,041.00, respectively.
In gold coin news, there were several developments on Wednesday:
Check out additional market resources at Live Spots, the Silver Coin Melt Calculator, U.S. Mint Collector Bullion Price Guide, and the Inflation Adjuster.