New opportunity for GOLD buyers with Weekly Special Gold Auctions, every Wednesday at HA.com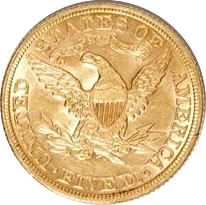 Dallas, TX – With the close of its first Weekly Special Gold Auction, on Wednesday, Jan. 21, Heritage Auction Galleries publicly launched the newest valuable online flourish in its considerable fabric. The auction, which realized $503,141, opened to Heritage's bidder-members a chance, for the first time, to opt-in to the generic certified and uncertified U.S. gold coins market at dealer prices.
The "generic" gold coin market has long been a staple of Heritage's wholesale business. Given the company's position as the undisputed world leader in coins, currency and collectibles, this isn't much of a surprise.
The fact that Heritage's bidder-members, more than 425,000 strong, all now have access to those "generic" gold coins – on a weekly basis, no less – is an important development indeed, and one that buyer's immediately responded to.
"I was happy to see that some of the lots sold to private individuals instead of dealers," said Doug Baliko, Director of Gold for Heritage. "Our aim is to make generics easily accessible to our client base, and that's just what this first auction did."
One of the main features of the Wednesday auctions, and an aspect that has Heritage especially enthused over the commencement of the auctions, is that there is no buyer's premium for successful bids, and the bidding increments are in $1 at a time.
"If a bidder wins one of the lots in the auction for, say, $5,000.00," said Baliko, "that's exactly what they pay. This is the only public auction venue for people to buy these types of coins at these prices."
Bidders in the Wednesday gold auctions will not bid on the rare and priceless gold coins that are the hallmarks of Heritage Numismatic Auctions, but rather the certified and uncertified gold dollars to $20 gold pieces that make up the bulk of the dealer-to-dealer U.S. gold coin trade, a market in and of itself worth hundreds of millions of dollars.
At a time when world financial markets are reeling, the value of precious metals – with gold chief among them – has remained a relatively steady investment. While the price of gold can and does fluctuate moderately, the coins in the Weekly Special Gold Auctions at Heritage also carry an intrinsic numismatic value as well.
In the first auction the combination proved attractive to buyers looking to diversify into tangible assets in tough times, and Heritage expects that will continue to factor into bidder considerations.
"This is another way for us to bring value and opportunity to our bidder-members," said Baliko. "We're committed to opening as many doors as possible, especially when Wall Street seems to be closing so many."
For more information, go online to www.ha.com/coins click on the link for the Weekly Special Gold Auction, opening and closing every Wednesday.
For more information about Heritage's auctions, and a complete record of prices realized, along with full-color, enlargeable photos of each lot, please visit www.HA.com.
To reserve your copy of any Heritage auction catalog, please contact Client Services at 1-800-872-6467, ext. 150, or visit www.HA.com/Catalog to order by email.
# # #