Sales of the US Mint American Eagle 10th Anniversary Platinum Coin Set ended this week. Included in the set were two one-half ounce .9995 platinum coins. One was a standard proof and the other was a special enhances reverse proof, which was a first.
The sets had a limited mintage of 30,000. The latest Mint sales figures show 19,257 sold, indicating, like other Mint products, that they were likely pulled as part of the Mint's move into 2009.
The 10th anniversary set had a storied line. The 2007-dated platinum coins launched on December 13, 2007 with a price tag of $1,949.95. London fix platinum at the time was around $1,420 an ounce, which meant the Mint was realizing a $171 premium over spot for the normal proof, and nearly $360 for the enhanced reverse. That caused some collectors pause.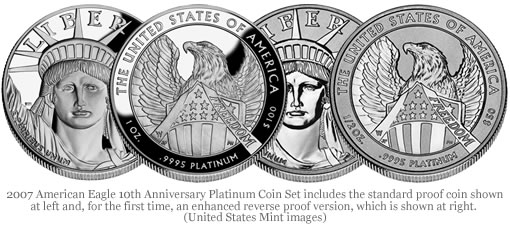 Rising platinum prices forced the Mint to suspend sales of the sets in February of 2008. They returned in April with a much higher price tag of $2,649.95. But volatile bullion swings and the Mint's static pricing policy with its silver, gold and platinum coins caused further disruptions.
Platinum prices plunged, and the Mint again removed the set from their online stores. This time for several months with many collectors believing they were gone for good. Then, surprisingly, the anniversary set returned in mid November and was marked down to its lowest and final Mint price of $1,249.95.
Up to that point, the Mint had sold some 18,047 sets. Secondary markets like eBay had listed selling prices ranging between $2,195.88 and $2,449.95. The Mint's sudden and unexpected return of the coins shocked both sellers and recent buyers.
During the last several months, platinum reached as low as $788 an ounce on the London fix, which likely caused buyers further pause in purchasing the anniversary set.
eBay sellers may already be attuned to the Mint ending sales and spot platinum's recent up trend as it closed on Friday to $926 an ounce. Current eBay auctions have BuyItNow prices for the sets ranging between $1,699 and $2,085.
Final US Mint sales figures should be known within the next week or so, and will be appended to this article.
[Editor's note: For the last several weeks, US Mint sales figures for the 10th anniversary set have stayed at 19,583. This is likely to be the "final" mintage total.]