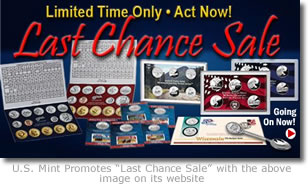 Collectors looking to shop for United States Mint clearance coins have just hours left. The Mint's "Last Chance Sale" kicked off Saturday, November 15, and ends today, December 19, at 5:00 (ET).
Still available are more than 100 old and new coin products that will "never be available again from the United States Mint." They are stamped as "limited-time, first come, first serve."
There are still several 2007 annual coin sets available, including the 2007 United States Mint Silver Proof Set™ and the 2007 United States Mint 50 State Quarters Silver Proof Set™. Additionally, there are many 50 state quarter coins and products.
The United States Mint is transferring its contractor-operated call center and fulfillment facility to Plainfield, IN. The "Last Chance Sale" is intended to clear as much old inventory as possible from the existing system to facilitate the transfer.
Customers may order clearance items online from the Mint page:
Phone orders may be placed seven days a week from 8 a.m. to midnight via 1-800-USA-MINT (872-6468). The Mint indicates no returns will be accepted unless a product is damaged in shipment.