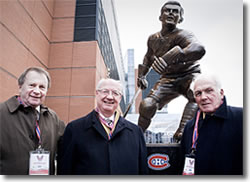 MONTREAL, QUEBEC — Today the Royal Canadian Mint joined the Montreal Canadiens hockey club at the unveiling of the Centennial Plaza at the Bell Centre in Montreal. Four special gold coins to be permanently displayed at the foot of monuments honouring team legends Howie Morenz, Maurice Richard, Jean Béliveau and Guy Lafleur were also unveiled.
These exclusive coins, engraved with the centennial logo of the Montreal Canadiens, are prominently featured on the memorial plaques of monuments dedicated to four of the most celebrated hockey players to have worn the colours of the Canadiens.
The commemorative plaque on each monument also has two embedded original five-cent circulation coins of the years marking the career of each of the players. Mint and Montreal Canadiens officials, Jean Béliveau, Guy Lafleur, Henri Richard, and members of the Morenz family were on hand to witness this historic unveiling.
"The mystique of the Montreal Canadiens is born of the legendary exploits of four hockey heroes and their many team mates, whose success on ice has helped define Canadian hockey and Canadian identity. The Royal Canadian Mint shares the pride of Canadian hockey fans from coast to coast in honouring the Montreal Canadiens' century of golden hockey moments," said Ian E. Bennett, President and CEO of the Royal Canadian Mint.

"The presence of the Montreal Canadiens centennial emblem on gold coins crafted by the Royal Canadian Mint is a wonderful gift to our organization and to Montreal Canadiens fans across Canada. We are proud to place these miniature masterpieces on permanent display at the foot of the monuments to four of the greatest players to have ever worn a Canadiens jersey," said Montreal Canadiens President Pierre Boivin.
Throughout the Centennial year, the Mint will offer coins and gifts available to all Canadians. Available now are collectibles and gift ideas from the Mint's annual line-up of NHL© collector products, including Montreal Canadiens commemorative coin sets, hockey coin pucks, mini-stick and mini-puck sets featuring special-edition one dollar coins, and sterling silver goalie mask coins.
These products can be found at locations such as the Mint's online store at www.mint.ca, the Mint's boutiques in Ottawa and Winnipeg, as well as coin dealers and participating Canada Post outlets across Canada.
About the Royal Canadian Mint
The Royal Canadian Mint, which is celebrating its 100th anniversary in 2008, is the Crown Corporation responsible for the minting and distribution of Canada's circulation coins. The Mint is recognized as one of the largest and most versatile mints in the world, offering a wide range of specialized, high quality coinage products and related services on an international scale.
For more information on the Mint's history, its products and services, please visit www.mint.ca.