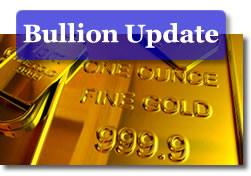 Gold moved lower Thursday as the U.S. dollar climbed and oil prices dipped below $44 a barrel to reach toward a four year low.
The dollar benefited from Bank of England and European Central Bank (ECB) interest rate cut announcements. New York silver, gold and platinum futures responded with losses of 0.7 percent, 0.6 percent and 0.8 percent respectively.
January crude-oil tumbled $3.12, or 6.7 percent, to $43.67 a barrel — its lowest closing price since January 5, 2005. The average price for unleaded gasoline dropped nearly a penny and a half to $1.789 a gallon, according to AAA.
March silver lost 7 cents to close to $9.52 an ounce.
January platinum fell $6.30 to end at $798.80 an ounce.
Gold for February lost $5 to close to $765.50 an ounce.
In an attempt to stimulate world economies, the Bank of England aggressively cut rates to 2 percent, the ECB dropped its rates to 2.5 percent, and the Swedish central bank cut rates by a record 1.75 points to 2 percent.
Gold, considered a hedge during times of high inflation and economic uncertainty, tends to follow oil and move opposite to the U.S. dollar. A rising greenback makes dollar-denominated commodities, like bullion, more expensive for holders of other world currencies. When prices are falling and economic activities are shrinking, gold prices tend to move lower.
In bullion coin news, the remaining uncirculated American Eagle Platinum coins sold out today, as did the proof American Buffalo gold 1/4 ounce size.
Check out CoinNews market resources at Live Silver, Gold & Platinum Spots, the Silver Coin Calculator, U.S. Mint Collector Bullion Coin Prices, and the Inflation Calculator.