The U.S. dollar on Tuesday lost steam, and helped gold recover from its biggest previous day session decline since March. That, despite another day of falling oil prices. New York silver and gold futures gained 2.5 percent and 0.8 percent, respectively, while platinum declined 0.3 percent.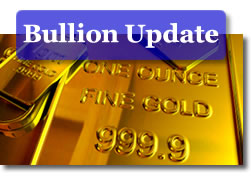 January crude-oil lost another $2.32, or 4.7 percent, following Monday's $5.15 drop to close to $46.96 a barrel. Oil is now at its lowest level in more than three years. The average price for unleaded gasoline declined nearly one cent to $1.812 a gallon, according to AAA.
March silver gained 23 cents to close to $9.615 an ounce.
January platinum fell $2.60 to settle at $807.30 an ounce.
Gold for February rose $6.50 to close to $783.30 an ounce.
"Gold is seeing a bit of a bounce because the dollar is weaker," said Matt Zeman, a metals trader at LaSalle Futures Group in Chicago. "Gold looks good to keep going higher as long as we don't have the panic selling we saw yesterday."
Gold, considered a hedge during times of high inflation and economic uncertainty, tends to follow oil and move opposite to the U.S. dollar. A rising greenback makes dollar-denominated commodities, like bullion, more expensive for holders of other world currencies. When prices are falling and economic activities are shrinking, gold prices tend to move lower.
Check out CoinNews market resources at Live Silver, Gold & Platinum Spots, the Silver Coin Calculator, U.S. Mint Collector Bullion Coin Prices, and the Inflation Calculator.