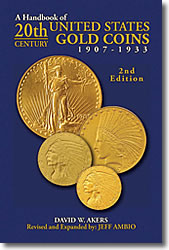 Irvine, CA – David W. Akers' classic numismatic reference, A Handbook of 20th-Century U.S. Gold Coins: 1907-1933, first published in 1988, is now available in an updated second edition published by Zyrus Press! Revised and expanded by Jeff Ambio, author of the "Strategy Guide Series," he begins the book by describing the changes in the market since the publication of the first edition.
He says, "Much has changed in the numismatic market since the first edition of this book went to print 20 years ago, particularly in connection with the 20th century gold series. Third-party certification has now become the industry standard for authentication and grading. The Internet has made numismatic research considerably easier and has made information readily available to anyone with access to a personal computer. And, of course, many important collections of 20th century U.S. gold coins have sold during the 20-year period from 1988 to 2008. Clearly, an update and revision were definitely in order."
However, Ambio also acknowledges that,
"Much of the information and conclusions that Akers incorporated into the first edition of this book remain, nonetheless, principal among which is his decision to exclude the circulated grades from the book… Additionally, Akers' comments about the popularity and rarity of the four 20th century U.S. gold series are still valid in the numismatic market of the 21st century…"
At 363 pages, this book follows an easy-to-read layout. Each coin is beautifully illustrated with full color coin images, with their characteristics broken down into strike, luster, color, surfaces, and eye appeal. Significant Examples of each coin, auction appearances to date and prices realized make a debut in this new edition, as well tables for "Total Known by Grade" and "Values by Grade." Rarity and population figures are the latest information you will find and Proof gold coins are a welcome addition to this classic reference.
Look for copies of A Handbook of 20th-Century U.S. Gold Coins in bookstores nationwide, Amazon.com or your local coin shop. Also available from Zyrus Press: PO Box 17810, Irvine, CA 92623. Phone: (888) 622-7823. Web: Stay up-to-date! Visit www.zyruspress.com. E-mail: info@zyruspress.com.
A Handbook of 20th-Century U.S. Gold Coins: 1907-1933 – 2nd Edition
Published by Zyrus Press, Inc. of Irvine, California (www.zyruspress.com)
Publication Date: November 2008
Binding / Size: Paperback / 6×9
Photos / Illustrations: 150+ full color images
Pages: 363
ISBN: 1-933990-14-7
Case Qty: 28
Suggested Retail Price: $34.95
# # #