American Eagle 10th Anniversary Platinum Coins are once again available from the United States Mint and at a substantially reduced price. The 2007-W two-coin set, which commemorates the 10th anniversary of the American Eagle Platinum series, were pulled months ago from Mint store shelves due to volatile platinum prices.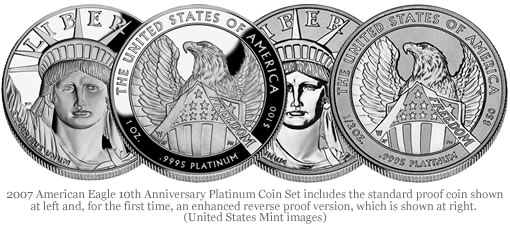 The special collector's set has a limited mintage of 30,000 and includes two one-half ounce platinum proofs. Most unique with the pair of coins is the first-time offered reverse proof version. According to the mint, the design elements were "strategically selected to feature the proof, mirror-like finish in contrast to frosted background design elements to enhance the entire image."
The anniversary set first went on sale December 13, 2007 for the price of $1,949.95. At the time, an ounce of platinum was priced around $1400. Rising platinum prices forced the Mint to suspend sales in February. They were resumed in April with a price tag of $2,649.95. The set was removed again from the Mint's store for many months until their return this week.
The two-coins set is now priced at $1,249.95, which is closer to current platinum prices. 18,047 of the sets have been sold to date.
Secondary markets like eBay have sets currently listed for "Buy It Now" prices between $2,195.88 and $2,449.95. These sellers and collectors who purchased at peak prices will be less than thrilled with the Mint's new pricing. On the flip side, collectors who were waiting to buy and missed out when the coins were pulled without notice can now take advantage of the collapsed bullion market and lower coin prices.
Orders may be placed on the Mint's online store at:
2007 American Eagle 10th Anniversary Platinum Coin Set
Or by calling the Mint directly at 1-800-USA-MINT (872-6468) between the hours of 8 a.m. to midnight (ET). No household limits are in place.
To discover which Mint gold and platinum coins have greater potential for the collector, visit the CoinNews collector tool page:
U.S. Mint Collector Bullion Coin Prices, Premiums and Sales Figures
The tool is also available through the CoinNews "Coin Pricing & Collector Tools" menu at the top of every page.