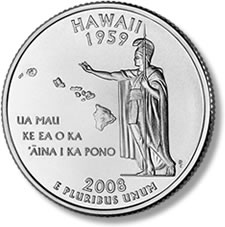 The Hawaii state quarter kicked-off with its ceremonial debut on Monday with thunderous success. Children who received a free, shiny Hawaii quarter were pleased, as it appears were those who waited in long lines for many hours to exchange money for the coins.
For a local perspective and one of the top news stories ever conducted for a state quarter release, follow New Hawaii Quarter Hits the Street and watch the included video.
During the ceremony, U.S. Mint Directory Moy aptly described the value the state quarters:
"Long after the last coin in the 50 State Quarters Program rolls off the presses at the United States Mint, we will remember the wonderful things we accomplished with this 10-year initiative."

"Americans gained a renewed sense of pride in their respective states. More of us were inspired to explore our Nation's history through the unique story that each quarter-dollar tells. Because of the 50 State Quarters Program, a geography lesson will jingle in our pockets for years to come."
The Hawaii quarter design features King Kamehameha I stretching his hand toward the eight major Hawaiian Islands. Underneath the islands is the Hawaiian state motto "UA MAU KE EA O KA 'AINA I KA PONO," meaning "The life of the land is perpetuated in righteousness."
King Kamehameha I is a revered figure in Hawaiian history. While maintaining the native practices and traditional ways of island life, he brought significant change and unified the governance of the Hawaiian Islands into one kingdom in the early 1800s. His "Law of the Splintered Paddle" guaranteed the protection of citizens from harm during war and became a landmark in humanitarian law.
In 2009, the Mint will launch a new series of quarters to honor the District of Columbia and the U.S. Territories, the Commonwealth of Puerto Rico, Guam, American Samoa, the U.S. Virgin Islands and the Commonwealth of the Northern Mariana Islands.