The U.S. dollar regained strength Thursday against other world currencies, and that — along with a drop in oil prices — drove gold lower. New York silver and gold futures fell 0.2 percent and 2.2 percent, respectively. Platinum, however, shined and jumped 1.7 percent.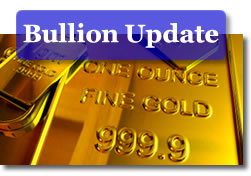 December crude-oil lost a portion of Wednesday's huge gain, dropping $1.54, or 2.3 percent, to close to $65.95 a barrel.
December silver dropped 2 cents to end at $9.79 an ounce.
January platinum gained $14 to settle at $830.60 an ounce.
Gold for December lost $16.50 to close to $738.50 an ounce.
"Expectations early this morning were that the US economy would show as steep a rate of shrinkage as Sen. Ted Stevens' fanbase. Well, the GDP data showed less of a decline than expected for the past quarter, and first-time jobless claims were unchanged," said senior analyst Jon Nadler at Kitco Bullion Dealers.

"The US dollar is still obviously calling the shots on what gold does next. And what gold did, was give up its early gains, and slump by $20 at last check," added Nadler.
The Commerce Department reported Thursday that the U.S. economy contracted at a 0.3 percent annualized rate in the third quarter. While it represents the largest contractions since the end of the last recession in late 2001, it was 0.2 percent lower than many economists expected.
Gold typically follows oil's direction and moves opposite to the U.S. dollar, as a weakened dollar encourages investors to buy gold, also normally considered a hedge or safe-haven during times of high inflation and economic uncertainty.
Check out CoinNews market resources at Live Silver, Gold & Platinum Spots, the Silver Coin Calculator and the Inflation Calculator.