A massive stock market rally on Tuesday and a firming U.S. dollar helped pressure New York gold and silver futures down by 0.3 and 4.4 percent, respectively.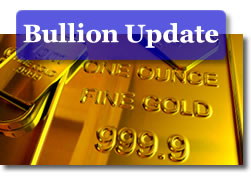 The Dow rallied as much as 906 points, and finally closed 889.59 points higher for an advance of 10.9 percent — its second best day ever. The S&P gained 10.8 percent and the Nasdaq Composite added 9.5 percent.
December oil fell another 49 cents, or 0.8 percent, to close to $62.73 a barrel and continued at its lowest level since May of 2007. Crude touched $61. 61 in intraday trading. Having just announced on Friday a production cut of 1.5 million barrels a day beginning on November 1, OPEC may meet yet again to consider deeper cuts in an attempt to raise prices.
December silver fell 41 cent to settle at $8.79 an ounce.
January platinum gained $11.60, or 1.5 percent, to end at $808.80 an ounce. The precious metal reached a low of $752.10 Monday, which was its lowest price since November of 2003.
Gold for December lost $2.40 to close to $740.50 an ounce. The yellow metal has fallen in ten out of the past thirteen sessions, losing 7.3 percent last week alone.
"While further falls are possible, nobody has a crystal ball," said Mark O'Byrne, executive director at Gold and Silver Investments. "Investors would be wise as ever to concentrate on the medium and long term fundamentals rather than on short term speculations."
Gold typically follows oil's direction and moves opposite to the U.S. dollar, as a weakened dollar encourages investors to buy gold, also normally considered a hedge or safe-haven during times of high inflation and economic uncertainty.
Check out CoinNews market resources at Live Silver, Gold & Platinum Spots, the Silver Coin Calculator and the Inflation Calculator.