New York silver, gold and platinum continued their slide downward Wednesday following lower crude-oil prices, and moving opposite of the US dollar.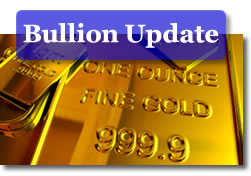 Oil was below $125 a barrel, mellowing inflation worries. The dollar gained against the euro.
Silver lost 54 cents to $17.46 an ounce.
Platinum continued its free fall, dropping to $1,760.80 an ounce for a daily loss of $47.40.
Gold closed to $922.80, losing $25.70 for the day. It's lowest intraday mark was $922 an ounce.
"Bullion has now erased about $70 off the Fannie/Freddie/Indy -related peak of $989 seen just a bit over a week ago" said senior analyst Jon Nadler at Kitco Bullion Dealers.

"At this point, we can no longer just look at options expiry and the rolling over of positions into the winter months for explanations or excuses," Nadler said.

"The dollar caught a very favorable wind in the words of Plosser and Paulson yesterday and its sails are inflating just about as fast as those of oil and gold are deflating."
Yesterday's comments from Treasury Secretary Paulson and Philadelphia Fed President Charles Plosser reaffirmed their support for a strong dollar, their drive to control inflation and signaled potential interest rates hikes.
Gold typically follows oil and moves opposite to the dollar, as a weakened dollar encourages investors to buy gold, considered a hedge during times of high inflation and economic uncertainty.
A falling greenback also makes commodities, like silver, gold and platinum, cheaper for overseas investors.
Bullion spots are available on the CoinNews page, Silver, Gold & Platinum Spots.
The change in the buying power of the US dollar can be seen on the CoinNews page, Inflation Calculator: Money's Real Worth….