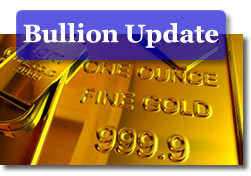 Thursday was sour for commodities. New York silver, gold and platinum futures fell 5.3 percent, 8.6 percent, and 4.1 percent, respectively. Silver not only broke the $10 barrier, for a time it was closer to $9. Gold ended the day above $800, but was as low as $791 per ounce. And not to be outdone, platinum is quickly approaching gold's price.
Can it get any crazier? Well, there is oil to talk about…
The U.S. Energy Information Administration reported on Thursday that both crude and motor gasoline supplies increased for a third week in a row. November crude-oil fell another $4.69, or 6.3 percent, to close at $69.85 per barrel. Oil is at its lowest point in 14 months, and now down 52.5 percent since its high of $147 in July.
December silver fell 54 cents to close at $9.64 an ounce.
January platinum plunged $83.90 to end at $891.30 an ounce.
Gold for December lost $34.50 cents to settle at $804.50 an ounce.
"The $135 damage to the price of bullion was achieved inside of a single week. The same week that was the worst ever for gold's natural enemy: stocks. There goes that counter-correlation.," said senior analyst Jon Nadler at Kitco Bullion Dealers.

"Cash continues to seduce while stocks continue to reduce. In this environment, the metals might find it tough going. Safe-haven quest could reignite any day, but it first requires the presence of…a haven. Keep the ore(s) (as well as the oars) handy, as changes in direction may be required quite often," added Nadler.
Gold typically follows oil's direction and moves opposite to the U.S. dollar, as a weakened dollar encourages investors to buy gold, also considered a hedge or safe-haven during times of high inflation and economic uncertainty.
Check out CoinNews market resources at Live Silver, Gold & Platinum Spots, the Silver Coin Calculator and the Inflation Calculator.