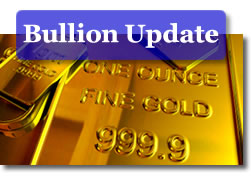 New York precious metals futures were again mixed on Tuesday, as investors monitored a falling stock market and watched world governments inject capital into banks. Gold dropped for the fourth straight day, but lost just 0.4 percent. Platinum and silver moved to the positive side, with 4.4 percent and 2.4 percent gains respectively.
November crude fell $2.56, or 3.2 percent, to settle at $78.63 per barrel.
December silver climbed 27 cents to close at $11.06 an ounce.
January platinum surged $46 to end at $1043.60 an ounce.
Gold for December dropped $3 to close at $839.50 an ounce.
The precious metal was edging lower "as reduced safe-haven demand was seen," said James Moore, analyst at TheBullionDesk.com. However, "the metal looks set to remain volatile in the coming session," he said, as investors watched the government's new rescue plan.
"Some are wondering whether the $930 showing by gold in the middle of the worst crisis ever fathomed by doomsday newsletters was 'it' – and if so, why such a 'poor' performance," said senior analyst Jon Nadler at Kitco Bullion Dealers.

"Others, (as always) remain convinced that the worst is yet to come, and that once the tiny shoots of hope start to wither and the world resumes its descent into total chaos, then the metal of ages will make a triumphant return. Return to what? A smoldering pile of rubble, no doubt."
Gold typically follows oil's direction and moves opposite to the U.S. dollar, as a weakened dollar encourages investors to buy gold, also considered a hedge or safe-haven during times of high inflation and economic uncertainty.
Check out CoinNews market resources at Live Silver, Gold & Platinum Spots, the Silver Coin Calculator and the Inflation Calculator.