Duvall 4-E Variety is Just the Second Reported Specimen
Virginia Beach, VA. DLRC Auctions is proud to offer this week the second known example of the rare Duvall 4-E variety of the Lafayette dollar. This variety was thought to be unique until the discovery of this coin, which has been graded AU58 Cleaned by Dominion Grading Service (DGS).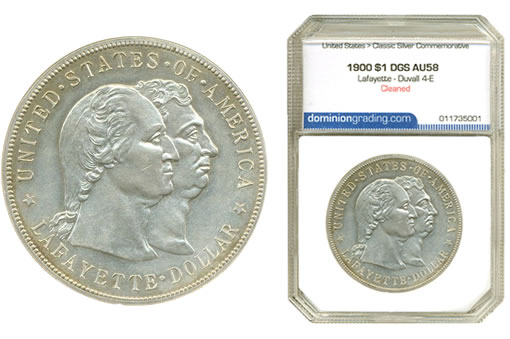 According to John Feigenbaum, President of David Lawrence Rare Coins, the coin has "the initial appearance of a mint state coin but the luster is almost too nice and lacks the frosty surfaces of a true mint state.

The coin has virtually no wear and has been very lightly cleaned to show evidence of wipe lines upon close examination in proper lighting. The only significant mark on either side of the coin is a 3 mm scratch on Washington's cheek. Without the mishandling, this coin might have otherwise graded MS63."
The consignor took advantage of DLRC's relationship with DGS to initially have the coin graded, and then offered for immediate auction at DLRC Auctions. According to Vice President Win Callender, this relationship offers clients "the best of both worlds" as a truly efficient means for collectors to sell their (previously) uncertified coins.
Bidding Closes on Monday Evening
This rare variety is offered at lot #1425 in DLRC Auctions Monday Night sale which closes at 8 pm, October 6. Lot bids and details can be found at this link: Lot 1425 1900 $1 DGS AU58 Lafayette – Duvall 4-E. There are also 1980 more lots in Auction #289 with offerings from Colonial Coins through California Gold, and everything in between.
The Duvall 4-E Variety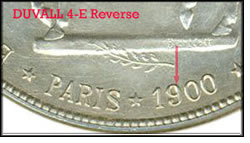 The Duvall 4-E variety is distinctive because of the unique positioning of the olive branch on the reverse. The right side of the branch terminates over the numeral 9 of 1900. All other known varieties see this branch end over the right side of the first 0 in 1900. Prior to the appearance of this coin, the existence of Duvall 4-E was thought to be unique.
The only other known Lafayette dollar of this die variety was sold in August 2007 by Heritage Numismatic Auctions as part of their Signature ANA Auction. (Lot 2090). It was graded MS60 by ANACS and realized $18,400 to a phone bidder. According to the Heritage lot description, that coin was "well struck with dusky chestnut, aqua, and plum-mauve patina. Both sides unusually free from marks, particularly on the portraits." Based on the description of marks, these are clearly not the same coin.
About DLRC Auctions
DLRC Auctions, a division of David Lawrence Rare Coins, has been running twice-weekly Internet auctions which close every Monday and Thursday evening. A 15% buyer's premium is added to successful bids. Consignments are always accepted, with very fair terms offered to the seller. Please visit www.davidlawrence.com for details.
Personal Internet Auction Program
The Block Island Collection is being offered through DLRC Auction's Personal Internet Auction program, in which we create an exclusive auction for a client's collection. For questions about the program and consigning or for upcoming auctions, please contact Win Callender or Jason Smith at 800-776-0560 x101 and x103, or email coingroup@davidlawrence.com.
# # #