Latest 2008 Royal Canadian Mint offerings include Chinese Lunar Zodiac hologram gold and cameo silver coins, silver and gold Moon Mask coins, Vignettes of Royalty (King George V) silver coins, silver Queen of Spades Playing Card coin, silver Sapphire and Amethsyst Crystal Snowflake coins, Holiday Carolling silver coins, 50 cent Holiday Snowman, and NHL© coins.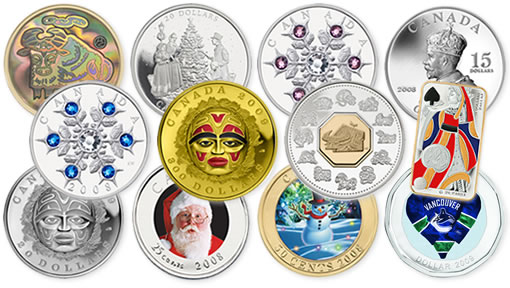 Ottawa, Ontario, October 1, 2008 — The Royal Canadian Mint today issued its latest release of collector coins and gift products for 2008—just in time for the holiday season. Examples from this impressive selection include: gold and silver coins celebrating the Year of the Ox; new gold and silver Moon Mask coins; an ultra-high relief King George V Vignettes of Royalty $15 silver coin; a new 99.99% pure silver Holiday Carols coin; as well as innovative keepsakes honouring Canada's beloved NHL© teams, featuring team jerseys, dual image logos and goalie masks. The public can purchase these new products as of today.
"As the Royal Canadian Mint continues to celebrate its centennial year, we are proud to issue new products showcasing the creativity, quality and innovation which have been our hallmarks since 1908," said President and CEO of the Royal Canadian Mint, Ian E. Bennett.

"Collectors and gift givers alike will find many exciting choices among the collector coins and gift products offered just in time for the holiday and hockey seasons."
Here are the highlights of the Mint's newest selection of products:
2009 LUNAR HOLOGRAM GOLD AND LUNAR CAMEO SILVER COINS – YEAR OF THE OX
The annual tradition of celebrating the Chinese Lunar Zodiac with gold and silver commemorative coin releases is alive and well as the Mint pays tribute to the Year of the Ox in 2009.
Both Year of the Ox coins are designed by Canadian artist Harvey Chan. The Lunar Cameo Coin is sterling silver and bears a face value of 15 dollars. It is the final instalment of the 12-coin series begun by the Mint in 1998. It features an octagon–shaped gold-plated cameo of a stylized ox surrounded by the 12 animals of the Chinese lunar calendar. This coin is the only 2009 issue bearing the former effigy of Her Majesty Queen Elizabeth II, which graced Canada's coinage from 1990 to 2003. Limited to a worldwide mintage of 48,888, it retails for $88.88 CDN.
The 18-Karat Gold Lunar Hologram Coin is the tenth coin in the Mint's hologram lunar series, which began in 2000. It features the Mint's world-renowned hologram technology and displays the current effigy of Her Majesty against a proof field. With a worldwide mintage of only 4,888, this coin retails for $538.88 CDN.
2009 $300 GOLD AND $20 SILVER COIN – MOON MASK
Coast Salish artist Jody Broomfield of British Columbia's Squamish Nation has designed a stunning new addition to the Moon Mask coin series launched in 2008. The reverse of the 2009 14-Karat Moon Mask gold coin depicts another original hand carved red cedar mask enhanced by a bold combination of red and black enamel. This coin symbolizes the deep spiritual attachment of First Nations people to the moon, which is frequently portrayed by their ceremonial masks. Limited to a mintage of 1,200, this large 50 mm coin retails for $1,723.95 CDN.
A new addition to this coin series in 2009 is the $20 silver rendition of this intricately designed Moon Mask. Ten thousand of these 99.99% pure silver coins are available world-wide, each retailing for $69.95 CDN.
2008 VIGNETTES OF ROYALTY COIN SERIES – $15 STERLING SILVER KING GEORGE V
The continuation of the Royal Canadian Mint's ultra-high relief "double effigy"silver coins features King George V, Canada's sovereign from 1910 to 1936. Upcoming issues from this five-coin series will include King George VI and Queen Elizabeth II in 2009. This design, as well as all others appearing in this series was approved by Her Majesty Queen Elizabeth II. Bearing a $15 denomination, this visually impressive, frosted effigy is set against a proof field. These coins were struck four times and hand polished in order to achieve their dramatic appearance. Limited to a world-wide mintage of 10,000, this coin retails for $99.95 CDN.
2008 $15 PLAYING CARD MONEY SERIES – QUEEN OF SPADES
A different kind of royalty adorns the second issue of the Royal Canadian Mint's new Playing Card Money silver coin series. The $15 Queen of Spades evokes an unusual period in early Canadian history when the Governor of New France resolved a shortage of hard currency by seizing all playing cards in the colony and re-issuing all cards bearing his signature as currency. This unique form of currency is revived in a beautifully painted rectangular silver coin designed from artwork preserved by Library and Archives Canada and featuring a selectively gold-plated rim.
Appealing to coin collectors and avid card players alike, only 25,000 of these finely crafted coins are available world-wide, each retailing for $89.95 CDN.
2008 $20 STERLING SILVER COINS – SAPPHIRE AND AMETHYST CRYSTAL SNOWFLAKE
Building on the perennial success of its innovative Crystal Snowflake series, the Mint is proud to introduce two new pure silver coins depicting snowflakes delicately encrusted with CRYSTALLIZED™ – Swarovski Elements. Available with either sapphire or amethyst-coloured crystals surrounding a central clear crystal, these sophisticated reproductions of six-sided dendrite ice crystals are the work of Mint Engraver Konrad Wachelko. These pure silver coins have a combined mintage of 15,000 and retail for $94.95 CDN.
2008 $20 FINE SILVER COIN – HOLIDAY CAROLLING
Another Canadian tradition graces the Mint's 2008 holiday-themed pure silver coin. The finely engraved image of four carollers in Victorian attire appears on a proof $20 coin of 99.99% pure silver. This iconic scene, a creation of Ontario artist Tony Bianco, can be found on only 10,000 coins world-wide. Each retails for $69.95 CDN.
2008 50 CENT COIN – HOLIDAY SNOWMAN
The Mint presents a new lenticular coin, featuring an animated snowman, in celebration of the 2008 holiday season. This visually striking image is showcased on a large brass plated 50-cent coin, whose lenticular application is surrounded by an outer ring with a brilliant uncirculated finish. As an addition to a collection or a stocking stuffer, this charming coin is sure to delight. This new addition to the Mint's lenticular holiday series is available for $25.95 CDN.
2008 ORNAMENTAL KEEPSAKES – WINTER SCENES OF CANADA
A trio of traditional Canadian winter scenes plated in 10-karat gold can be found in the Mint's newest holiday offering. Each keepsake, which can be used as a tree ornament, has been designed by accomplished artist and Senior Mint Engraver Susan Taylor. "A Wintry Sleigh Ride", "Nanuk of the North"and "Hockey Dreams on Ice"are tastefully presented in a colourful collector folder. This set of three keepsakes retails for
$29.95 CDN.
2009 NHL© COINS AND GIFTS
As Canadians eagerly awaits the start of a new NHL© season, the Mint has developed some creative coins and gift ideas for supporters of Canada's NHL© teams. 2008/2009 promises excitement on and off the ice as the Mint issues team coin sets, hockey coin pucks, mini-stick and mini-puck sets featuring special-edition one dollar coins, as well as sterling silver goalie mask coins.
Six team coin sets are available, featuring each Canadian NHL© team. A special edition dollar coin featuring an image of a team jersey is accompanied by six other circulation coins in uncirculated finish in an attractive folder with an inside section reserved for player autographs. This unique coin set is available for $24.95, while supplies last.
Mint NHL© coin pucks are returning to action in 2008/2009. This season's edition features official NHL© hockey pucks with an encapsulated limited edition dollar. This one-dollar coin contains a lenticular application producing a dual image of each team's logo, from contemporary to vintage. While supplies last, these unique collectible coin pucks are available for $24.95 CDN.
Building on the popular appeal of team mini-sticks, the Mint has developed a collectible set combining a limited edition one dollar coin embedded in a mini-puck key chain, offered alongside a team mini-stick. These original coin and gift sets, available while supplies last, are priced at $24.95 CDN.
A series of new, colourful sterling silver coins close off the line-up of 2008/2009 Mint NHL© products. Available for $74.95 CDN are six coins in proof finish featuring goalie masks painted in each team's logo and colours. These coins, limited to a world-wide mintage of 10,000, are sure to enhance coin and sport memorabilia collections across Canada.

All of the Mint's products are available directly from the Mint at 1-800-267-1871 in Canada, 1-800-268-6468 in the US, or on the Internet at www.mint.ca. The coins are also available at the Royal Canadian Mint's global network of dealers and distributors.
About the Royal Canadian Mint
The Royal Canadian Mint, which is celebrating its 100th anniversary in 2008, is the Crown Corporation responsible for the minting and distribution of Canada's circulation coins. An ISO 9001-2000 certified company, the Mint is recognized as one of the largest and most versatile mints in the world, offering a wide range of specialized, high quality coinage products and related services on an international scale. For more information on the Mint's history, its products and services, please visit www.mint.ca.
NHL is a registered trademark and the NHL Shield is a trademark of the National Hockey League. NHL and NHL team marks are the property of the NHL and its teams. All Rights Reserved.
# # #