New York precious metals pushed ahead Thursday with a second day of sharp gains. Futures in silver, gold and platinum were up 9 percent, 4.7 percent, and 5.5 percent, respectively. Continual concern over the global financial sector and its uncertainly lured investors toward traditional safe-haven gold, but the ride was a roller-coaster with sharp ups and downs.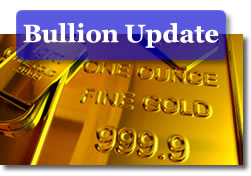 October crude-oil improved 72 cents to end the day at $97.88 per barrel.
December silver marked another banner day with a jump of $1.02 to close to $12.70 an ounce.
October platinum gained $51.30 to close to $1,137.60 an ounce.
December gold gained $46.50 to close to $897 an ounce. Earlier in the day, the contract had reached a high of $926.
"Highly unsettled and extremely volatile conditions continued to rock world equity and commodity markets for a second day, as central banks pulled out the big guns and prepared to fire a near quarter trillion dollar round at the system in order to avert a bigger meltdown that that which has already taken place to date," said senior analyst Jon Nadler at Kitco Bullion Dealers.

"New York spot dealings traded over another $90 range today – but not in the upward direction this time. From a high of $918 to a low of $831 per ounce, spot gold had a dramatic session as it followed the gyrations in oil, the Dow, and the US dollar," continued Nadler.
On Thursday, the world's top central banks said they would pump more than $180 billion in extra dollar funds into global money markets. In an attempt to gain some stability, Britain's Financial Services Authority put a temporary ban on placing bets financial stocks will fall. Later, the Securities and Exchange Commission essentially followed. SEC issued new rules to protect investors from so-called "naked" short selling of securities. With that news and talk of a new federal agency to combat the financial crisis, US stocks rallied in the final hours of trade.
Gold generally follows oil's direction and moves opposite to the U.S. dollar, as a weakened dollar encourages investors to buy gold, also considered a hedge or safe-haven during times of high inflation and economic uncertainty.
Check out CoinNews market resources at Live Silver, Gold & Platinum Spots, the Silver Coin Calculator and the Inflation Calculator.