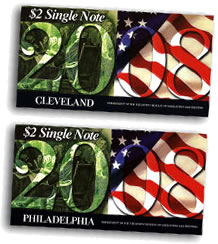 The Bureau of Engraving and Printing (BEP) has announced new sale dates of October 1 for the 2008 Cleveland $2 Single Notes and October 20 for the 2008 Philadelphia $2 Single Notes. Both collector notes will be available on their respective days at 7:20 A.M. EDT. Each has a price tag of $7.95.
In May, the BEP delayed Cleveland note sales "due to system maintenance." That was followed in June by a similar announcement delaying Philadelphia notes. The two were actually skipped over with the release of the Richmond $2 singles in late July.
The $2 collector series are extremely popular. Each previous offering from designated Reserve Banks Atlanta, New York, San Francisco, Chicago, Dallas, and Richmond sold out within a few short hours.
The single notes feature:
Crisp, uncirculated Series 2003A
Serial number beginning with "2008xxxxD"
Designation from the specified Federal Reserve Bank
In addition to the above specifications, the $2 note product also is:
Limited in quantity to 10,000
Protected by a clear, acid-free polymer sleeve
Housed within a 2008 commemorative folder
There is a household limit of 25 units in place. And with that, the BEP has a strongly worded statement saying,
Any customer who place orders above the quantity restriction (25 units) for this product is subject to having their entire order rejected.
The product information and order page for each note follows:
2008 $2 Single Note (Cleveland)
2008 $2 Single Note (Philadelphia)
Other reserve bank notes will follow throughout 2008. Remember to mark your calendars and good luck!