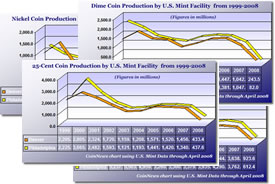 U.S. Mint circulating coin production is down across the board based on a current pace that should see about 10.1 billion coins minted in 2008. That compares to 14.4 billion coins issued in 2007 and over 15 billion in years 2006 and 2005. In fact, at the current rate, 2008 coin output will end at its lowest level in at least the last ten years.
The Mint's first release of production figures for 2008 reported 3.2 billion coins struck through April. The newest figures indicated 6.7 billion coins were minted through August, or about 842 million coins on average per month. The comparison charts shown below provide the best visual evidence of the declines at both Mint facilities in Denver and Philadelphia.
As a side note, unlike April's figures that had no Kennedy half-dollars or Sacagawea $1s, the latest numbers indicate production of those coins have resumed, although in comparative small quantities.
Unchanged from the last report is this year's trend where pennies, nickels and dimes are produced in much greater numbers at Denver — although at a lesser percentage gap than the first four months of this year.
Over half of all coins produced to date in 2008 are Lincoln cents (3.58 billion).
As a measure for yourself, take a visual glance at some of the production figures from the Mint.
US Mint Coin Production Charts (1999-2008)
3-D charts compare which Mint facility produces the most coins of a type by a given year. The control panel in lower left may be used to stop or move slides.
(2008 figures go through to August.)
While the Mint issues billions of coins each year at an absolutely amazing rate, demand is apparently falling with a pick up in transactions through plastic (credit cards and the like).
Do you want a deeper look at the numbers, including Presidential $1 coins? For complete U.S. Mint production figures and tables, visit the CoinNews page, United States Mint Circulating Coin Production Figures for 1999-2008.