New York gold futures fell further Thursday, reaching an impressive nine-day losing streak and smashing through the mental $750 barrier. Silver and platinum faltered as well, while the US dollar gained against the euro.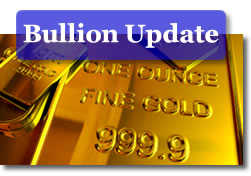 Gold prices were not helped by oil either. October crude fell another $1.71 to $100.87 per barrel; its lowest level since early April,
December silver dropped 33 cents, or 3 percent, to end at $10.56 an ounce.
October platinum dropped further by $39.80, or 3.3 percent, to close at $1,152.20 an ounce.
December gold fell $17, or 2.2 percent, to close to $745.50 an ounce, a price not seen since last October.
"Bullion has lost some $200 over the past two months. Crude oil continues to aim for a break of the $100 mark, the US dollar continues to trounce everything in its path," said senior analyst Jon Nadler at Kitco Bullion Dealers.

"The metal [gold] has seen its longest losing streak in eight years and there is a lot of book-squaring left to do before tomorrow's final bell of the week," continued Nadler.
Gold generally follows oil's direction and moves opposite to the U.S. dollar, as a weakened dollar encourages investors to buy gold, also considered a hedge or safe-haven during times of high inflation and economic uncertainty.
Check out CoinNews market resources at Live Silver, Gold & Platinum Spots, the Silver Coin Calculator and the Inflation Calculator.