Sand from the Great Pyramid of Giza has been encapsulated within silver and gold commemorative coins featuring the Wonders of the Modern World.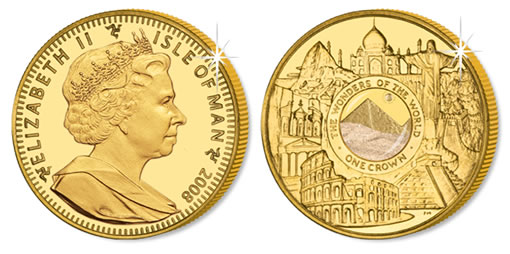 The 2008 proof commemoratives were minted on behalf of the Isle of Man Government by the Pobjoy Mint, who has become known for their innovative approach to modern coin issues, and minted the world's first pyramid shaped coin in 2007.
The reverse or tails side of the coins feature a center design depicting the Great Pyramid of Giza with a layer of sand encapsulated in a thin plate of glass. Surrounding the pyramid are designs depicting:
The Taj Mahal in Agra
Christ Redeemer
The Great Wall of China
Chichén Itzá
The Roman Colosseum
Petra
Machu Picchu – The Old Peak
Approved by Buckingham Palace the obverse or heads side of the coins carry an effigy of Her Majesty Queen Elizabeth II by Ian Rank-Broadley FRBS FSNAD.
The proof silver coin has a face value of 2 crowns and is struck in two ounces of 999. fine silver. It is 40mm in diameter, weighs 62.207 grams and has an issue limit of 2,500. It is priced at £175.00. (See international currency conversions.)
The proof gold coin has a face value of 1 crown and is struck in one ounce of 999.9 fine gold. It is 32.70 mm in diameter, weighs 31.103 grams and has an issue limit of 250. It is priced at £1,575.00.
Also available are uncirculated versions without sand and struck in sterling silver or cupro nickel. These two coins are priced respectively at £38.25 and £8.47.
For more information or to place orders, visit the Pobjoy Mint website and search for "Wonders of the World."
About Pobjoy Mint Ltd.
The Pobjoy family have been associated with fine metalwork since the Middle Ages. The Company was recently granted permission to use the family Coat of Arms in which the Medieval Popinjay is the central motif.
Over the past three centuries, the Company has been involved in many diverse fields, but they have always been involved in metal, both base and precious.
For the past 100 years the Company has been deeply involved in the development and manufacture of coins, medals and tokens.