"Queen Mary" $500 1911 is One of Only Three Known to Exist
Dallas, TX: Heritage Auction Galleries will offer one of the rarest Canadian notes ever printed, the "Queen Mary" $500 1911, in their upcoming Long Beach Currency Signature Auction, to be held September 17-19, 2008.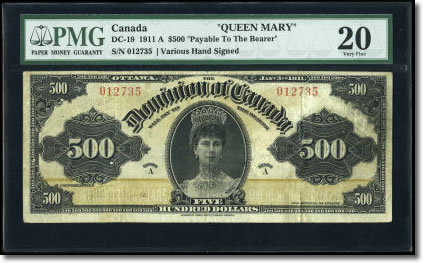 "This is an amazing note, one of the classic rarities in Canadian currency," said Michael Moczalla, Consignment Director for Dallas-based Heritage Auction Galleries. "Until the discovery of this particular piece, there were only two examples known to exist in private hands. In fact, this type and denomination is so rare that it is even lacking in the official Bank of Canada collection!"

"The specimen we're offering in our Long Beach auction has been graded PMG Very Fine 20 with mention of minor restorations, which, although present, are exceedingly difficult to detect," Moczalla said.

"Its existence represents a true miracle of survival, attesting to the fact that these high denomination pieces were actually used in commerce. If this were a United States issue, recognized as only the third example known for the design type, it would easily be a million dollar note."

"Canadian notes have been growing steadily in popularity and, given the performance of the Flynn Collection – which was part of our record-setting Central States auction held earlier this year – the market for true Canadian rarities is beginning to generate prices which are now standard south of the border.

The current Charlton catalog places a value on this note in this grade of $250,000 Canadian. Our best guess here is that this 'Queen Mary' note will bring a solid six figure price, but if two or more determined bidders decide they have to own it, our estimate will likely be conservative in the extreme."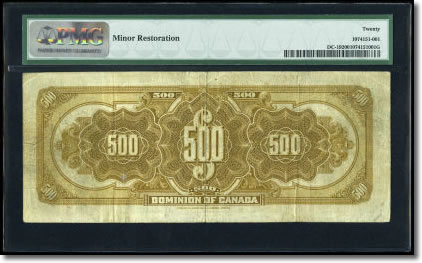 To view all the lots in the upcoming auction, please visit www.HA.com/Currency.
If you are interested in selling your collection in this greatly anticipated auction, contact one of our Currency Specialists at 1-800-872-6467, Ext. 1001.
About Heritage Auction Galleries
Heritage Auction Galleries is the world's third largest auction house, and by far the largest auctioneer of rare collectibles, with annual sales over $600 million, and 375,000+ registered online bidder members. For more information about Heritage's auctions, and to join and gain access to a complete record of prices realized, along with full-color, enlargeable photos of each lot, please visit www.HA.com.
# # #