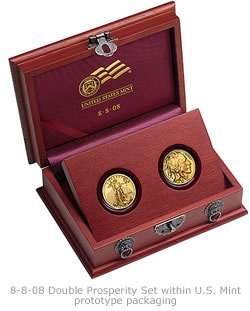 U.S. Mint Director Ed Moy treated the press to a golden experience today by providing a glimpse inside the United States Mint at San Francisco to behold the new gold, two-coin 8-8-08 Double Prosperity Set.
The set includes two gorgeous uncirculated one-half ounce gold coins — the 22-karat American Eagle and the 24-karat American Buffalo. Both are packaged within an "elegant hardwood box."
"The 8-8-08 Double Prosperity Set presents a once-in-a-lifetime opportunity for coin collectors and the general public," said Directory Moy.

"The date 8-8-08 (August 8, 2008) occurs only once every 100 years. To mark this occasion, this is also the first time the United States Mint has paired two gold coins in custom-designed packaging, making this set a unique product for the Asian-American community."
The American Eagle gold coin obverse features Augustus Saint-Gaudens' full-length figure of Liberty with flowing hair, holding a torch in her right hand and an olive branch in her left. The reverse design, by sculptor Miley Busiek, features a male eagle carrying an olive branch flying above a nest containing a female eagle and her eaglets.
The American Buffalo gold coin features the classic portrait of a Native American in profile on the obverse and the magnificent American Buffalo, or bison, on the reverse. Noted American sculptor James Earle Fraser, a student of Augustus Saint-Gaudens, originally prepared both images for the redesigned nickel released in 1913.
The coins are available at the Mint's online website on the product page: 8-8-08 Double Prosperity Set for the price of $1,298.95.
The two-coin set is the second offering in the United States Mint Celebration Series, which is intended to offer products "to celebrate special gift-giving occasions and celebratory events."
The first product introduced the American Buffalo 2008 Celebration Coin to celebrate the 2008 Lunar New Year.