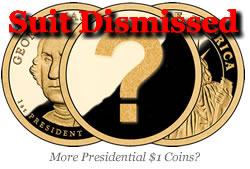 U.S. District Judge Steven D. Merryday ended a Florida man's lawsuit to require Treasury Secretary Paulson to issue Presidential $1 coins with images of the 10 men he says were president before George Washington.
Stanley L. Klos of Palm Beach, Florida wanted Paulson to use his authority over the U.S. Mint to issue coins for the men who were Presidents of the United States in Congress Assembled under the Constitution of 1777, also known as the Articles of Confederation as adopted in March of 1781.
The suit was filed in the Middle District of Florida on May 1, 2008. On June 19, the government filed a motion to dismiss the case, pleading it lacked merit since the Presidential $1 Coin Act of 2005 dictates the coin images — not Paulson.
Judge Merryday agreed and ended Klos' suit yesterday, July 14. In a four page ruling, Merryday wrote in part,
The [Presidential] Coin Act's requirement that the coins be issued "in the order of the period of service of each President, beginning with President George Washington" strongly supports the defendant's [Paulson's] contention, and the plaintiff [Klos] offers no convincing argument, explanation, or citation of authority to support a contrary interpretation of the statute.

Because the Coin Act neither requires nor authorizes the Secretary to issue a coin bearing the image of each "Constitution of 1777 President," the complaint asserts no recognizable right to relief.
Merryday did state Klos' "wish to correct what he regards as a widespread misconception about those who served the nation under the Articles of Confederation is laudable."
WFLA-TV News Channel 8 quoted Klos after the ruling saying,
"I was surprised and disappointed. To me it seemed that the law was pretty clear that a summary case should be heard.

I am looking into doing a motion for reconsideration, but I am going to continue my research. I am however pleased that Merryday is recognizing that the case is laudable."
The historically significant leaders Klos speaks of are Samuel Huntington, Thomas McKean, John Hanson, Elias Boudinot, Thomas Mifflin, Richard Henry Lee, John Hancock, Nathanial Gorham, Arthur St. Clair and Cyrus Griffin. Men, he says and discusses in his book, President Who? Forgotten Founders, who not only held top positions in U.S. history, but signed national documents as President.