Gov. Benigno R. Fitial revealed the selected Commonwealth of the Northern Mariana Islands (CNMI) quarter design and has forwarded the decision to the United States Mint.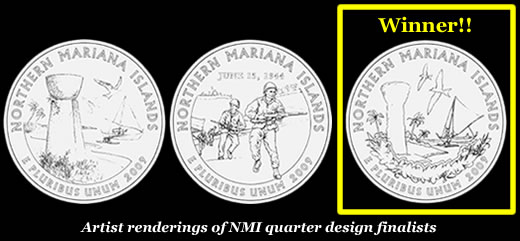 Unlike the quarter selection process for the District of Columbia and other U.S. Territories which involved public voting, the CNMI design was chosen by a three-member commission set up by the governor — attorney Teresa Kim, the governor's special assistant for administration Esther Fleming, and Catherine Perry Anderson.
In the Marianas Variety, Kim described how the three designs came about:
"They [United States Mint] asked us for narratives as opposed to pictures. Because they have specific artists and that's all they do … they wanted to use the same artists and so they told us to give narratives or stories… And they came up with designs based on the stories that we gave them."
From there and after receiving the Mint's artist renderings shown above, the commission made their final selection.
By law, U.S. Secretary of Treasury Henry Paulson has the final say in the design used. Paulson, however, is not likely to overrule any recommendations sent his way.
Overview of CNMI design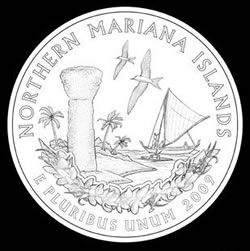 The Saipan Tribune reports the commission picked the final design because it depicted the Commonwealth's indigenous culture, natural resources, and virtues of hospitality and respect.
The chosen design features a latte stone, a pre-historic pillar of the Chamorros, erected on an island surrounded with three coconut trees and wild plants.
Near the shore is a canoe representing the Carolinian people who are known for their exceptional navigational skills. Two native birds known as Chungi hover in the sky.
Underneath the latte stone is the mwar, symbolizing the unity between the CNMI's Chamorros and Carolinians.
New U.S. quarter release schedule for 2009
No exact dates have been set for the commemorative quarter releases in 2009, but they will launch in the following order and at equal intervals:
More information regarding these quarters, including the design process, may be read though the US Mint page, The District of Columbia and United States Territories Quarter Program.
To see or read about all the original design candidates, visit Quarter Image Design Finalists for District of Columbia and United States Territories.