Coin Auction Total for June Goes Over $4.75 Million! Teletrade Special Friday Auction on June 27 Tops $1 Million, With Five Coins Exceeding $100,000 Each.
IRVINE, Calif. – Teletrade, America's largest fully automated Internet auction company for certified coins and currency, hosted a very special Friday online auction on June 27, 2008, in addition to their three regular weekly auctions.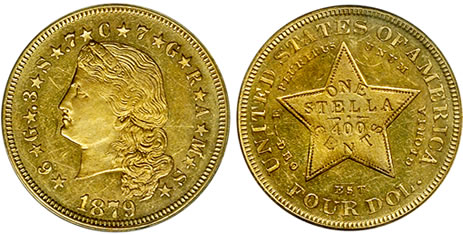 Teletrade Auction 2549, consisting of just more than 200 exclusive certified coin lots, realized an outstanding $1,050,000, bringing Teletrade's June auction total to more than $4.75 million, a record high month for Teletrade prices realized!
This special Friday auction featured an amazing selection of certified coins highlighted by another original hoard of PCGS Green Holders, including many Wells Fargo $20 pieces, auctioned alongside a variety of other extraordinary U.S. rarities certified by PCGS and NGC.
From this special selection, five exceptional coins realized in excess of $100,000 each:
Five Exceptional Coin Highlights

Lot 1068
$2.5 Gold 1796 Stars NGC AU-50
$100,800
Lot 1084
$4 Gold Stella 1879 Proof Flowing Hair PCGS PR-62
$128,800
Lot 1099
$10 Gold 1795 13 Leaves NGC MS-61
$112,000
Lot 1100
$10 Gold 1801 NGC MS-64
$123,200
Lot 1121
$20 Gold 1895 Proof NGC PR-65 Ultra Cam
$117,600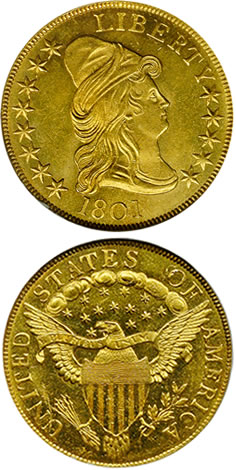 "This is simply unprecedented for Teletrade," said president Ian Russell, "two million-dollar sales in the same month, and an overall record month for the entire 22-year history of the company.

It is truly a testament to the direction of online auctions for Teletrade and for the industry as a whole, and I am thrilled to see Teletrade leading the way.

Over $4.75 million in online coin and currency sales in a single month is just incredible."
Russell attributes the success of the recent Friday auction to the exceptional selection of certified coins that were consigned, especially on the heels of the other million-dollar Teletrade auction on June 1, 2008.
Auction 2536 was Teletrade's highest grossing online auction of certified coins in the company's 22-year history, which realized $1,124,253 and featured "The Green Holder Collection," more than 250 coins in classic PCGS early generation holders that achieved 100 percent sell-through.
Additionally, Teletrade made a concerted effort to bring these impressive coins to the biggest buyers in the industry, including a five-state lot viewing trip spearheaded by Russell himself, along with lot viewing at the Summer FUN 2008 Convention in Palm Beach in the days prior to the auction.
"These coins created their own buzz early on, and bringing them directly to the major buyers and enthusiasts was key to the overwhelming success of this auction." Russell added.
Additional Coin Highlights

Lot 1000
Colonial 1776 $1 Continental Currency Pewter PCGS AU-55
$44,800
Lot 1085
$5 Gold 1806 Round 6 7X6 Stars PCGS MS-62
$19,600
Lot 1087
$5 Gold 1813 PCGS MS-62
$17,920
Lot 1090
$5 Gold 1838C NGC AU-58
$20,160
Lot 1199
Territorial Gold 1837-42 64G 22-$2.5 Bechtler NGC MS-60
$19,600
Lot 1205
Territorial Gold 1855 $10 Wass Mol S.S.Central America PCGS AU-53
$22,960
Visit www.teletrade.com for a complete listing of prices realized for Auction 2549 and previous.
# # #
About Teletrade
Established in 1986, Teletrade is the largest and most active marketplace for certified coins and currency with more than 165,000 registered bidders and over 300,000 lots featured in our auction system each year. Teletrade offers 25,000 to 30,000 coin and currency lots each month in auctions held every Sunday, Monday and Wednesday, plus advertised special event sales on other days of the week. Visit www.teletrade.com for detailed information on auctions and prices realized, or call 800.949.2646 to speak to a representative.