Conducting the highest grossing auction in its 22-year history, Teletrade breaks records June 1 with total online auction sales surpassing $1.1 million and "The Green Holder Collection" realizing 100 percent sell-through.
IRVINE, Calif. – Teletrade, America's largest fully automated Internet auction company for certified coins and currency, conducted its highest grossing online auction of certified coins in the company's 22-year history on Sunday, June 1, 2008, realizing $1,124,253.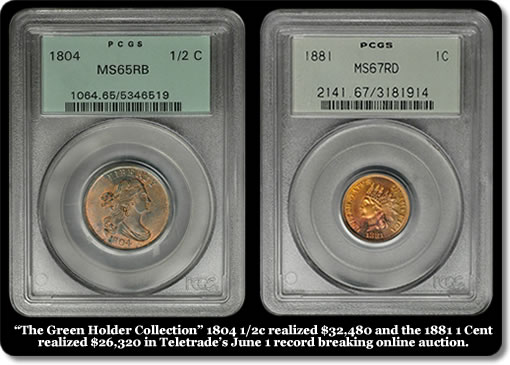 The featured highlight of the auction was "The Green Holder Collection," more than 250 coins in classic PCGS early generation holders, which achieved 100 percent sell-through.
"This is a spectacular accomplishment for an online coin auction to exceed $1 million, which is not only huge for Teletrade but for the industry as a whole," said Ian Russell, president of Teletrade.

"The Internet opens up so much possibility for buying and selling coins and currency at levels of success never imagined possible, and I am so thrilled that Teletrade is leading the way in Internet certified coin auctions."
Russell attributes the success of the June 1 online auction to the extraordinary quality of the coins represented in "The Green Holder Collection," supported by a dynamic marketing campaign of print advertisements, public relations, email blasts and online promotion, as well as very well-attended lot viewing at the Long Beach Coin, Stamp & Collectible Expo in the days leading up to the auction.
"This overwhelming result was made possible by the hard work and dedication of the entire Teletrade team, and I am very grateful to be surrounded by such professionalism."
"The Green Holder Collection" was the result of the combined efforts of two California collectors and consisted of more than 250 coins in classic PCGS "green holders" and first generation "rattlers."
These early generation PCGS holders characterized by their green labels were used throughout the 80s and 90s, dating back to the very first days of PCGS. Many of these coins in the Teletrade auction are finest known, all graded by PCGS, and have not been offered to the collecting public in 15 years which generated significant bidding interest.
"I spoke to the consignors after the sale last night," Russell continued, "and needless to say they are very pleased with the results. They both have an eye for exceptional coins – rarity and quality – and these coins are worthy of the finest Registry Sets. "
"The Green Holder Collection" was presented in more than 250 individual lots, all of which were sold in the June 1 auction, and many set Teletrade sales records.
Highlights of prices realized include:
| | | |
| --- | --- | --- |
| Lot 1000 | 1804 1/2c PCGS MS-65RB | $32,480 |
| Lot 1016 | 1881 Cent PCGS MS-67RD | $26,320 |
| Lot 1043 | 1909-S Indian Head Cent PCGS MS-65RD | $25,200 |
| Lot 1171 | 1910 Nickel PCGS MS-67 | $25,760 |
| Lot 1182 | 1927-D Nickel PCGS MS-65 | $18,480 |
| Lot 1371 | 1876 Twenty-Cent PCGS MS-66 | $20,160 |
| Lot 1510 | 1861 Half Dollar PCGS MS-66 | $30,240 |
| Lot 1512 | 1877 Half Dollar PCGS MS-66 | $15,120 |
| Lot 1514 | 1886 Seated Half Dollar PCGS MS-66 | $21,840 |
| Lot 2573 | 1878-S Trade Dollar PCGS MS-65 | $17,360 |
Over 950,000 certified coins that Teletrade sold over the past 10 years are archived on Teletrade's website, an invaluable resource used by coin collectors and dealers alike.
# # #
About Teletrade
Established in 1986, Teletrade is the largest and most active marketplace for certified coins and currency with more than 167,000 registered bidders and over 300,000 lots featured in our auction system each year.
Teletrade offers 25,000 to 30,000 coin and currency lots each month in auctions held every Sunday, Monday and Wednesday, plus special event sales on advertised Thursdays. Visit www.teletrade.com for detailed information on auctions and prices realized, or call 800.949.2646 to speak to a representative.