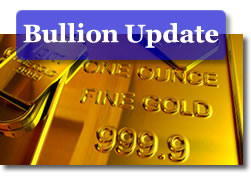 New York gold climbed sharply Tuesday, reaching a 10-week high as European stocks dived, oil prices rose and inflation worries drove investors toward precious metals.
Gold closed up $16.20 to $944.50 an ounce. At one point, it reached as high as $948.50.
Silver followed, rising more than 4 percent and up 78 cents to $18.29 an ounce.
Platinum moved higher by $16.70 to $2086.20 an ounce.
"The outlook for prices increasingly relies on the U.S. dollar, interest rates and perceptions about whether the FOMC (Federal Open Market Committee) has the intestinal fortitude to lift rates in the August/September window," said JP Morgan analyst Michael Jansen.

"The market has recently cast more doubt about the Fed's inflation fighting credentials following the release of the FOMC statement last week, and this in turn has allowed the gold price to move materially higher."
The European Central Bank decides on their interest rates Thursday.
Bullion spots are available on the CoinNews page, Silver, Gold & Platinum Spots.