The finest known U.S. territorial gold coin, the 1854 Kellogg & Co. $20, graded PCGS SP-69, will return to Baltimore for a public exhibit for the first time since it was sold by The John Hopkins University as part of the legendary Garrett Collection more than a quarter century ago.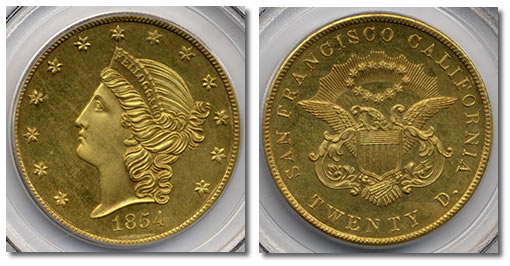 "This is a homecoming. It's the first time it will be publicly showcased in Baltimore in 28 years," said Steven L. Contursi, President of Rare Coin Wholesalers of Dana Point, California (www.RCW1.com), the coin's owner.
He is bringing it to Baltimore for an educational exhibit during the first four days of the American Numismatic Association World's Fair of Money® in the Baltimore Convention Center, July 30 – August 3, 2008.
The Honorable John Work Garrett (1872 – 1942), an American diplomat and ambassador, was the grandson of Baltimore and Ohio Railroad executive and one-time president, John Work Garrett (1820 – 1884), and the eldest son of T. Harrison Garrett (1849 – 1888), who began collecting coins as a student at Princeton. The coin collection grew extensively under T. Harrison's sons, John and Robert (1875 – 1961).
"Ambassador Garrett acquired this famous gold piece from the collection of Col. James W. Ellsworth in 1923, and it was included in the family's fabled coin collection kept at Evergreen House mansion that was given to The Johns Hopkins University upon his death in 1942," explained Contursi.
Sold by the school for $230,000 in a 1980 Bowers and Ruddy auction, it subsequently changed hands several times since then. Contursi has owned it twice; from 2002 to 2005, and since 2006. Now insured for $3 million, he has underwritten educational displays of the Gold Rush-era coin in San Francisco, Santa Clara, Long Beach and Atlanta.
"It was made by a well-known San Francisco assayer, John Glover Kellogg, from gold found in the area at the time.

Kellogg was a native of Onondaga County, New York and a former employee of the San Francisco U.S. Assay Office who set up his own assay company during the booming days of the California Gold Rush.

He specially made this coin on February 9, 1854 and gave it to his friend and future business partner, New York City watchmaker, Augustus Humbert, the former U.S. Assayer in San Francisco," explained Contursi.
Kellogg's name prominently appears on the front of the coin on the headdress worn by the symbolic "Miss Liberty." The tail's side carries the wording, "SAN FRANCISCO CALIFORNIA TWENTY D."
"It's the finest known U.S. territorial gold coin and the only known Kellogg $20 designated as a specimen strike.

It's in pristine condition, meticulously struck and then carefully preserved by Garrett and other collectors for 154 years," said David Hall, Founder of Professional Coin Grading Service (www.PCGS.com) and President of its parent company, Collectors Universe, Inc. (NASDAQ: CLCT).
The historic gold coin will be displayed by Contursi in a specially-constructed, five-foot tall wooden exhibit case that symbolically resembles the mid-19th century cabinets that housed the United States Mint's coin collection.
The free World's Fair of Money will be held at the Baltimore Convention Center, Hall A (Charles Street Lobby) One West Pratt St., Baltimore, Maryland. The Kellogg $20 will be displayed to the public at booth #232 Wednesday through Friday, July 30 – August 1, 2008, from 10 a.m. to 6:30 p.m., and on Saturday, August 2, from 10 a.m. until 2 p.m.
The 48-room Evergreen House at 4545 N. Charles St. is now known as Evergreen Museum & Library, and operated by The Johns Hopkins University. A Gilded Age mansion, it was built in the 1850's and purchased in 1878 by John Work Garrett, president of the B&O Railroad for his son, T. Harrison Garrett and his young family.
The art-rich, multi-layered museum is open Tuesday through Friday with the first tour at 11:00 a.m. and the last at 3:00 p.m.; Saturday and Sunday with the first tour at Noon and the last at 3:00 p.m. For more information, call (410) 516-0341, or visit online at www.museums.jhu.edu.
# # #