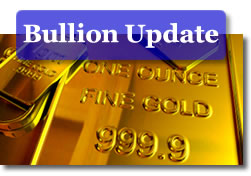 New York gold edged up ever so slightly Tuesday, but stopped short of breaking the $900 barrier. In the end, gold closed to $891.60 an ounce for a gain of $4.40 on the day.
Silver fell by nearly 16 cents to close to $16.63 an ounce.
Gold's small upward movement was attributed to Tuesday's weakening U.S. dollar, oil prices, and caution before the Fed interest rate decision.
"Tuesday's New York session had gold hanging on to a $5 gain for most of the day, as players were cautiously positioning ahead of Fed decision day but were also eyeing a decline in crude oil from earlier highs and the results of consumer confidence and housing values surveys," commented Jon Nadler, a senior analyst at Kitco Bullion Dealers.

"Both sets of US numbers painted a picture resembling Edvard Munch's "The Scream" and kept the greenback on the defensive near 73.20 on the index."
The Federal Reserve makes their announcement on interest rates tomorrow.