Largest Collection Ever of Historic Law Badges, Martial Arms & Militaria, and Fine Arms & Sporting Guns Expected to Total Over $2.7 Million in Greg Martin Auctions on June 16-17.
SAN FRANCISCO, CALIFORNIA, MAY 20, 2008 – Greg Martin Auctions has announced its Summer Sale will be held on June 16 – 17, 2008, at the company's auction gallery in San Francisco. This event will feature three separate catalogs with exceptional and diverse offerings in three areas: "Martial Arms and Militaria," "Fine and Historic American Badges," and "Fine and Collectible Arms and Sporting Guns featuring Estate Arms Collections."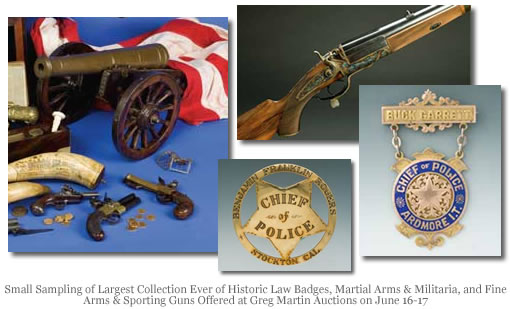 Bidding will begin on Monday, June 16, with the Martial Arms and Militaria and continue through Tuesday until all of the more than 1800 items have been offered for sale. Previews, free to the public, will be held the preceding weekend from 10 am to 5 pm on June 14 – 15 at the San Francisco gallery.
True to Greg Martin Auctions' reputation of offering the rare and unusual among antique arms and armor, the Summer Event is sure to intrigue both seasoned and novice collectors from both near and far. Of particular note is the largest collection of historic badges of its kind ever to come to auction. Amassed by a prominent Western collector who prefers to remain anonymous, the assemblage of over 140 historic law badges was built over 30 years.
Although the focus is on badges from the West, the collection reaches across the U.S., including the East Coast. Some of the distinctive pieces that belonged to prestigious lawmen are solid gold; others are encrusted with precious stones like diamonds and rubies. Collectors with a Bay Area bent will be intrigued with police badges from San Francisco, Oakland and Gilroy. Showcased with superlative color images of each piece and detailed text that provides the provenance, the catalog of "Fine and Historic American Badges" will become the definite reference work for these kinds of items.
Certain to attract interest is one of the most unique lots in the auction — the Colt Single Action Army Revolver from Lt. Col. George Custer's 7th Cavalry, captured by the command of Crazy Horse and Sitting Bull at Little Big Horn in 1876. Picked up by Indian warriors on the battlefield and passed down through generations of family or friends, the revolver is coming up for bid now the first time ever.
Some militaria collectors, and many viewers, will be intrigued by a selection of watercolors by Adolf Hitler, which illustrate scenes of an old Viennese palace, Viennese gardens and the Tyrolian village of Mitterndorf.
All items in the June sale will be illustrated in three separate catalogs that soon will be available online for purchase. The complete catalogs — including full descriptions, estimates and photographs by individual lot — will be presented online three weeks prior to the sale at www.gregmartinauctions.com.
Highlights in June's Greg Martin Auctions include:
Fine and Collectible Arms and Sporting Guns featuring Estate Arms Collections
Rare, Historic and Important U.S. Issue Colt Single Action Army Revolver, Captured by the Command of Crazy Horse and Sitting Bull from Lt. Col. George A. Custer's Forces at the Little Big Horn, June 25, 1876. Lot 1060 (Estimate: $100,000 / 150,000)
Rare and Fine J.H. Dance & Brothers Confederate Dragoon Revolver, with History of Original Ownership by Private Mile C. Bell, Co. F, 23rd Brigade of Texas Cavalry. Lot 1041 (Estimate: $50,000 / 70,000)
Alexander Hamilton's Historic, Important and Unique Powder Horn, Carved and Inscribed by Him and Dated 1773, Accompanied by Detailed and Illustrated History and Provenance and with Corroboration by Experts and Descendants. Lot 1013 (Estimate: $20,000 / 25,000)
Largest Sale of its Kind of Fine and Historic American Law Badges
Multi-Color Gold and Blue Enamel Suspension Badge of Chief of Police Buck Garrett, Ardmore, Indian Territory. Lot 827 (Estimate: $30,000 / 50,000 )
Fine Jeweler-Made, Gold, Enameled and Diamond-Mounted Eagle & Shield Presentation Badge of Bodie A. Wallman, Chief of Police, Oakland, California by B.J. Co. Lot 829 (Estimate: $15,000 / 20,000)
Rare and Unique Finely Crafted Cloisonné 14K Gold Five-Pointed Star U. S. Marshal Badge. Lot 806 (Estimate: $12,000 / 15,000)
Rare and Exceptional 19th-Century Jeweler-Made Engraved Gold Circle & Star Presentation Badge to Benjamin Franklin Rogers, Chief of Police, Stockton, California. Lot 799 (Estimate: $10,000 / 15,000)
Rare and Fine Tiffany-Made Gold Presentation Badge for United States Marshal of the Supreme Court J.M. Wright. Lot 793 (Estimate: $10,000 / 15,000)
Martial Arms and Militaria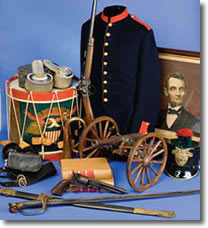 The June militaria sale has a wide range of historic collectibles from many eras and nations, including a rare WWII 1st pattern German Luftwaffe paratrooper helmet and a scarce official copy of Hitler's orders authorizing the invasion of the Soviet Union — one of only a few in private hands, this example signed by Hitler. Among the many Third Reich collectibles are numerous WWII souvenirs captured from Hitler's residence at the "Eagle's Nest," as well as his three watercolor paintings.
Greg Martin Auctions bidders can participate in the June event in various ways: onsite at the San Francisco gallery, phone bidding and absentee bids. In addition, real-time, Internet bidding through Proxibid allows potential buyers online to view a photo of each item as it goes up for sale and to place a bid as selling is underway.
Greg Martin Auctions' next sale is scheduled for November 2008 in the San Francisco gallery.
Photos of the June Auction items are available upon request; please contact Chris Gallo at 415-537-3800 or via email at cgallo@gregmartinauctions.com.
* (Note that, unless otherwise noted, all sales figures mentioned here reflect aggregate sales; that is, hammer price plus buyer's premium.)
ABOUT GREG MARTIN AUCTIONS
Based in San Francisco, Greg Martin Auctions (GMA) provides collectors, institutions, dealers and enthusiasts with unsurpassed expertise and a complete range of services to appraise, value, market and sell fine antique, collectible and sporting arms, armor and historical memorabilia. The company's full-service approach to auctions includes state-of-the-art technology; telephone, absentee and online bidding; fully-illustrated print and online catalogs; and private previews by appointment. Sales schedules and collector information are available online.
A leading auction house for antique arms and historic memorabilia, Greg Martin Auctions has achieved the sale of some of the most important arms ever sold and numerous world records, including the highest price ever paid at auction for a firearm – $828,800 – for a cased, gold-inlaid 1849 Colt revolver. For more information, contact Greg Martin Auctions by telephone toll-free at 1-800-509-1988, by fax at 415-543-7576, by email at info@gregmartinauctions.com or online at www.gregmartinauctions.com.
ABOUT ESCALA GROUP, INC.
Escala Group is a consolidated global collectibles network. The Company is a leading auctioneer of stamps, coins, arms, armor and militaria, and other memorabilia, targeting both collectors and dealers. Escala is also a merchant/dealer of certain collectibles and trader of precious metals. The Company's collectibles offerings span the modest to ultra high-end price spectrum. Escala conducts its operations in two business segments: collectibles and trading.
Escala's Group companies focused on philately are H.R. Harmer and Nutmeg Stamp Sales, both in North America; Corinphila Auktionen of Zurich, Switzerland and the Kohler group of auction companies of Berlin and Wiesbaden, Germany from our European division; and John Bull Stamp Auctions, Ltd, the oldest philatelic auction house in Hong Kong in our Asia division. Escala's Group companies in its numismatics division include Teletrade, Bowers and Merena Auctions, North American Certified Trading, and Spectrum Numismatics International, one of the largest wholesalers of rare coins in the U.S. Greg Martin Auctions is in the Company's art and antiques division.
The trading activities of Escala Group are conducted through A-Mark Precious Metals, one of the largest private sellers of bullion coins and bullion gold, silver and platinum to the wholesale marketplace.
SAFE HARBOR STATEMENT
Statements in this press release that relate to future plans, objectives, expectations, performance, events and the like are "forward-looking statements" within the meaning of the Private Securities Litigation Reform Act of 1995 and the Securities Exchange Act of 1934. Future events, risks and uncertainties, individually or in the aggregate, could cause actual results to differ materially from those expressed or implied in these statements.
Factors that may cause such differences include changes in market conditions, changes in economic environment, competitive factors and the other factors discussed in the "forward-looking information" or "risk factors" sections included in Escala Group's filings with the Securities and Exchange Commission, including Escala Group's Annual Report on Form 10-K, Quarterly Reports on Form 10-Q, prospectuses and other documents that Escala Group has filed with the Commission. In particular, any statement related to Escala Group's expected revenues or earnings or Escala Group's being well positioned for future profitability and growth are forward-looking statements.
The words "should," "believe," "estimate," "expect," "intend," "anticipate," "foresee," "plan" and similar expressions and variations thereof identify certain of such forward- looking statements, which speak only as of the dates on which they were made. Additionally, any statements related to future improved performance and estimates of revenues and earnings per share are forward-looking statements. The Company undertakes no obligation to publicly update or revise any forward-looking statements. Readers are cautioned not to place undue reliance on these forward-looking statements.
# # #