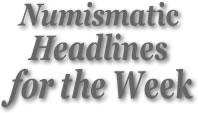 Welcome to this week's Numismatic Headlines, a compilation of some of the best articles that were NOT written by CoinNews writers or posted as CoinNews articles.
For those, you can go straight to the CoinNews "Today" page.
The articles may, however, and likely were listed every day on the CoinNews page, Today's RSS Coin News Feeds, which list aggregated numismatic, shipwreck and gold stories from across the web.
Here are several numismatic articles for the week: