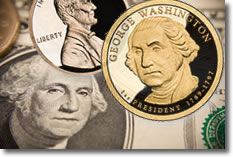 A new poll by Harris Interactive® reflects American's favor for the Lincoln penny, its preference for the $1 bill and the uphill battle the U.S. Mint is fighting to get new Presidential $1 coins into daily circulation.
Presidential $1 dollar coins not making it into circulation
For the latter two topics, there has been no shortage of articles within numismatic publications relaying the overwhelming realities of the near impossible task of a dollar coin competing head on with the lighter, and more convenient to use dollar bill. And while the word "many" has been used to describe those who have not yet seen the Presidential $1 coins used in circulation since their 2007 introduction, an overwhelming 75% of Harris Poll respondents say they have not seen a single dollar coin in circulation.
Given the U.S. Mint produced nearly 941 million presidential $1 coins in 2007 alone, or enough for every U.S. man, woman and child to each have three, the 75% figure highlights that while the coins may be attractive to collectors, so far they have not proven practical for use. In that regard, they lose to the paper dollar just like previous $1 coins.
American don't want to abolish the penny
In another interesting Harris Poll result, only 24% of respondents indicated they were in favor of abolishing the penny. 56% said they were opposed and 20% were not sure. While other polls have seemed to provide a more even split, including the one conducted by CoinNews, the Harris Poll went further in actually breaking the numbers down by income and gender.
Those who make less than $35K a year were more apt to oppose the elimination of the penny. That goes hand-in-hand with the fear that without the penny, prices would be round up by at least nickel and hurt lower-income households the most.
It is important to note that a poll's results are driven by how a question is posed and the amount of information on hand. For the penny, it would be interesting to see the same question answered after respondents were told it actually costs 1.7 cents to manufacturer each penny.
But regardless, these poll results would seem very reflective of the current thinking of U.S. residents. And for the penny itself, it would appear clear its potential elimination is year's away. Politicians are not likely to dump the penny when the majority of Americans still want it.
The entire Harris Poll, including tabular poll results, follow:
Majorities Prefer $1 Bills to Coins and Oppose Abolition of the Penny
Compared to some other countries, the United States uses bills rather than coins for relatively small denominations. The smallest Euro bill is for 5 Euros (approximately $8) and the smallest British bill is for 5 pounds (approximately $10). However, even through there have been several attempts to introduce a $1 coin — and starting last year, the U.S. mint has issued new one dollar coins — a very large (76% to 13%) majority of the public prefers a dollar bill to a coin.
Another idea that has been proposed from time to time has been the abolition of the penny. By more than a two-to-one majority (56% to 24%) most people oppose this idea also.
These are some of the results from the latest Harris Poll of 2,513 adults surveyed online between March 11 and 18, 2008 by Harris Interactive®.
While there is a strong reluctance to abolish the penny or to use $1 coins, a large majority (68% to 16%) is in favor of using more colors in bills of different denominations to make it easier to tell them apart. This is, of course, normal practice in many other countries, but until recently all U.S. currency bills in all denominations were green.
Other interesting findings in this Harris Poll include:


While majorities of people of all ages want to keep the penny, support for abolishing it is much stronger among the more affluent and weaker among people with lower incomes. Only 16 percent of people with household incomes of less than $35,000 favor abolishing the penny, compared to 32 percent of people with household incomes of $75,000 or more;

Also, men are much more in favor of abolishing the penny than women are (34% versus 14%). This probably has something to do with carrying change in a pocket compared to in a purse. Yet, almost one in five men (18%) say they would prefer a $1 coin compared to just 8 percent of women;

Only 25 percent of adults have seen one of the new $1 coins even though they have been in circulation since 2007. Four coins were issued that year and four more are being issued each year until each US president is depicted on a coin;

These coins seem to be less used in the East than in other regions as just 19 percent of Easterners have seen one.


FAVOR ABOLISHING THE PENNY?
"Would you favor or oppose abolishing the penny so that the nickel would be the lowest denomination coin?"
2004

2008

%

%

Favor

23

24

Oppose

59

56

Not sure

18

20
FAVOR ABOLISHING THE PENNY– BY INCOME AND GENDER
"Would you favor or oppose abolishing the penny so that the nickel would be the lowest denomination coin?"
Total

Income

Gender

Less than $35k

$35k-$49.9k

$50k-$74.9k

$75k+

Men

Women

%

%

%

%

%

%

%

Favor

24

16

24

26

32

34

14

Oppose

56

64

52

56

51

49

62

Not sure

20

20

24

17

18

17

23
SEEN NEW $1 COINS?
"Starting last year, the U.S. Mint began issuing new one dollar coins depicting the U.S. presidents. Four will be issued each year until all the presidents have been honored. Have you seen one of these coins in circulation?"
Total

Region

East

Midwest

South

West

%

%

%

%

%

Yes

25

18

25

28

25

No

75

82

75

72

75
PREFER $1 COIN OR BILL?
"Thinking about the one dollar denomination, which would you prefer?"
Total

Gender

Men

Women

%

%

%

Coin

13

18

8

Paper

76

70

81

Not sure

11

11

11
FAVOR OR OPPOSE USE OF MORE COLORS IN BILLS OF DIFFERENT DENOMINATIONS
"In many other countries, different denominations of currency are different colors. Recently, the U.S. Mint began putting different shades on some of the denominations. Would you favor or oppose using more color so that each bill would be easily identifiable by color?"
Total

%

FAVOR (Net)

68

Strongly favor using more color

29

Somewhat favor using more color

39

OPPOSE (Net)

16

Somewhat oppose using more color

9

Strongly oppose using more color

7

Not at all sure

16
Methodology
The Harris Poll® was conducted online within the United States between March 11 and 18, 2008 among 2,513 adults (aged 18 and over). Figures for age, sex, race/ethnicity, education, region and household income were weighted where necessary to bring them into line with their actual proportions in the population. Propensity score weighting was also used to adjust for respondents' propensity to be online.
All sample surveys and polls, whether or not they use probability sampling, are subject to multiple sources of error which are most often not possible to quantify or estimate, including sampling error, coverage error, error associated with non response, error associated with question wording and response options, and post-survey weighting and adjustments. Therefore, Harris Interactive avoids the words "margin of error" as they are misleading. All that can be calculated are different possible sampling errors with different probabilities for pure, unweighted, random samples with 100% response rates. These are only theoretical because no published polls come close to this ideal.
Respondents for this survey were selected from among those who have agreed to participate in Harris Interactive surveys. The data have been weighted to reflect the composition of the adult population. Because the sample is based on those who agreed to participate in the Harris Interactive panel, no estimates of theoretical sampling error can be calculated.
These statements conform to the principles of disclosure of the National Council on Public Polls.
About Harris Interactive
Harris Interactive is a global leader in custom market research. With a long and rich history in multimodal research, powered by our science and technology, we assist clients in achieving business results. Harris Interactive serves clients globally through our North American, European and Asian offices and a network of independent market research firms.
To become a member of the Harris Poll Online and be invited to participate in online surveys, register at www.harrispollonline.com.
Referenced
The Harris Poll®#41, April 14, 2008, "Majorities Prefer $1 Bills to Coins and Oppose Abolition of the Penny"
Harris Interactive Inc. All rights reserved.
About Harris Poll®
Begun in 1963, The Harris Poll weekly column is one of the longest running; most respected proprietary surveys conducted by Harris Interactive measuring public opinion and is highly regarded throughout the world. The nationally representative polls, conducted both by telephone and online, measure, and trend, the knowledge, opinions, behaviors and motivation of the general public.