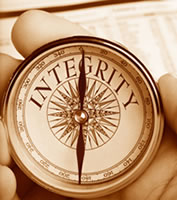 Imagine if you purchased a home, lived in it for several years and then discovered some old coins in the attic belonging to the previous owner. What would you do? Would you try to track the previous owner down and return the coins? What if that owner had passed away?
Personally, I believe the decision to find the rightful owner and return the coins would be one most coin collectors would make—even if there was no legal requirement to do so. More than anyone, coin collectors know the time, money and effort commitment, the history, and the joys and rewards of collecting.
And while any hobby has their share of "bad wolfs", most collectors would recognize another person's collection is exactly that, another person's collection—regardless if that collection somehow found its way into their home.
Whether coin collector or not, deep down everyone knows what really should be done in such a circumstance. The unfortunate reality is that gray line between "right and wrong" is different or too wide for many.
The finding of the coins in the attic, and their return
There was no such gray line or hard decision making to be made for a Novato, California man. Tim Omarzu of the Novato Advance writes how Mathew Rodgers discovered the hidden coins in the attic while running electrical wire in his home of a little more than two years.
The coins were within an old ammunition box along with notes to family members. While the family of the owner's coins knew about them, they could never find them after his passing.
Mathew Rodgers did and he tracked down a surviving family member.
"It wasn't ours. It obviously was the right thing to do to return it," Rodgers said.
Rogers, a husband and father of three, not only returned the coins, but he refused to accept a reward for finding them.
Read the entire article
I recommend reading the article by Tim Omarzu from the Novato Advance. It includes many more details, including interesting quotes from everyone involved. Go to:
And thank you Mr. Rodgers for your encouraging example of integrity.