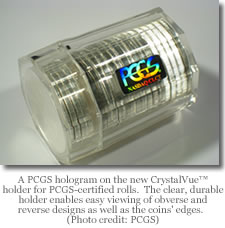 Professional Coin Grading Service (PCGS) is offering a new service, the Roll Certification Program, for rolls of Brilliant Uncirculated coins. Certified rolls are encapsulated in a new PCGS product, the clear, durable CrystalVue™ holder, which enables easy viewing of the obverse and reverse designs as well as the coins' edges.
"In 1986, PCGS revolutionized the coin market by establishing the standard for third-party grading of individual coins. Now, with so many people collecting coins such as Presidential dollars by the roll, PCGS is revolutionizing coin collecting again with the Roll Certification Program. It gives collectors a safe, effective method of protecting their coins for future generations while guaranteeing the authenticity and Brilliant Uncirculated grade of an entire roll," said Ron Guth, PCGS President.
PCGS now is accepting for roll certification Presidential dollars submitted in Mint-sealed boxes of government-wrapped rolls, and American silver Eagles in Mint boxes. Acceptance of additional coin denominations and series will be announced in the coming weeks.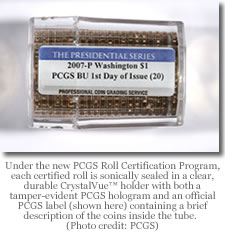 Each certified roll is sonically sealed in a CrystalVue holder with both a tamper-evident PCGS hologram and an official PCGS label containing a brief description of the coins inside the tube.
"This is the most secure and aesthetic method of packaging coin rolls in the history of the hobby," explained Miles Standish, Vice President of Business Development for PCGS.

"The crystal clarity of the new holders allows the obverse and reverse designs, and even the edge lettering on Presidential dollars, to be easily seen. The sonically-sealed tube also provides safe, long-term storage."
For additional information about the PCGS Roll Certification service, contact the PCGS Bulk Department at (800) 447-8848. A free brochure is available on request.
PCGS (www.PCGS.com) is a division of Collectors Universe, Inc. (NASDAQ: CLCT).