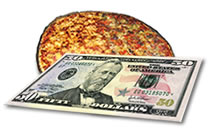 Making dough is common place in a pizza shop kitchen. Making fake dough, as in counterfeited $50 bills, is not so common.
Police arrested Frank Donato back in October of 2007. At the time, Fox News reported the owner of a Dobbs Ferry, N.Y., pizzeria was cooking up more than pizza.
Mr. Donato is the owner of The Brick Oven Pizza shop and was charged with several counts of first-degree forgery when $6,000 in fake bills and counterfeit equipment were uncovered in his shop.
In a plea agreement yesterday, Mr. Donato copped to one of the felony counts. Surprisingly, he may only serve five years of probation when sentenced June 18.