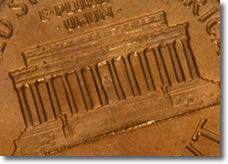 Is the demise of the Lincoln penny approaching? Public sentiments appears slightly shifted toward its continual survival and the penny is guaranteed to be around for the next several years. The newly designed pennies for 2009 celebrating the bicentennial birth of Lincoln will see to that by itself.
But is sentiment for the penny changing and moving toward its elimination?
While the House is debating changes to the composition of coinage in order to make coins like the penny and nickel once again profitable to mint, more focus is placed on whether the penny should be produced at all. Even the latest House hearing had congressman pondering the pennies' continuation.
The 60 Minutes segment, Should We Make Cents?, and Secretary of the Treasury Henry M. Paulson's comment in favor of eliminating the penny are further recent examples.
The CoinNews Inflation Calculator shows that it takes 21 pennies today to equal the buying power of the penny back in 1915. In 1960, 31 pennies could buy a gallon of gas. Now it would take several rolls for that one gallon.
Like it or not, given the trend of sentiment and inflation, it would seem the penny could be approaching borrowed time.
Here is an interesting editorial, Dump the penny, from the Chicago Tribune.