An image of the finest known 1794 Flowing Hair silver dollar, owned and frequently exhibited by Steven L. Contursi, President of Rare Coin Wholesalers of Dana Point, California, may appear on wine bottles.
Contursi recently purchased the "Little Creek" estate vineyard in Napa Valley, California, and wants to use a photo of the Neil/Carter/Contursi dollar on the wine labels.
"In recent years this organically farmed vineyard annually has produced about 300 cases of an acclaimed ultra-premium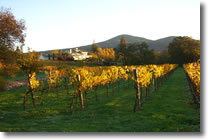 Cabernet Franc blended with Cabernet Sauvignon and Malbec. The 1794 dollar is an ultra-premium coin believed by many experts to be the very first silver dollar struck by the United States," said Contursi.
The coin is graded PCGS Specimen-66, and insured for $10 million. It is on loan to the American Numismatic Association's Edward C. Rochette Money Museum, and will be exhibited at the ANA World's Fair of Money® in Baltimore, July 30 – August 3, 2008.
The first bottles of Little Creek red wine produced by Contursi are expected to be released in 2011.
# # #