Goldberg Coins & Collectibles partners with WorthPoint, a social network and search engine for collectors

Reston, VA. — WorthPoint Corporation, the premier website for art, antiques, and collectibles, announced today that Ira and Larry Goldberg Coins & Collectibles, Inc. has selected WorthPoint as a data publishing partner. Under the new agreement, Goldberg will provide WorthPoint with upcoming and historical auction data to be published on the WorthPoint web site. With information provided by Goldberg Coins & Collectibles, WorthPoint is now able to provide more comprehensive data than ever.
"We are extremely pleased to begin our partnership with Ira and Larry Goldberg," said Will Seippel, CEO and Chairman of WorthPoint. "With this new relationship, we add the sales of United States currency, world gold and silver coinage, and antiquities to our database, from experts in the field of numismatics. No one is more knowledgeable on the subject of numismatic and philatelic collections than Ira and Larry Goldberg are, and WorthPoint is proud to include the Goldbergs' records in its data collection."
About WorthPoint
WorthPoint is a collector's social network and search engine rolled into one. The website is changing the process of assessing worth for collectibles by providing a vast database of sales records wherein an individual can assess the worth of their own collection. Through WorthPoint, collectors connect with experts to learn more about authenticity and value in art, antiques, and vintage items. Through the WorthPoint online community, members can contact other collectors interested in buying, selling, or swapping stories, and they can share their insight and knowledge through the forums and wikis.
About Ira and Larry Goldberg Coins & Collectibles, Inc.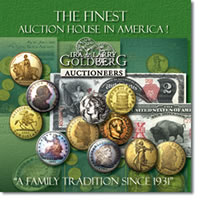 Ira and Larry Goldberg have been in the coins and collectibles business for over 35 years and are leaders in their field. Their grandfather founded the prominent Superior Stamp and Coin Company in Beverly Hills in 1931, and Goldberg Coins & Collectibles of Beverly Hills, California, has been setting records and upholding the family tradition of excellence and expertise since 1969.
In 1999, Ira and Larry Goldberg were part of a group that purchased the S.S. Central America treasure, valued at 100 million dollars; the largest numismatic purchase of all time. Also in 1999, they set a world record with a $20 gold 1907 Ultra High Relief that sold for $1.1 million; the highest price paid for a gold coin at public auction.
The Goldbergs are also known for having privately sold the King of Siam Set for a record-breaking $8.5 million. The King of Siam Set is America's single most important numismatic item and it was the third time the Goldbergs were responsible for its sale – also a record. Personal service, expertise, and an impressive record of sales are the characteristics that define auctions at Goldberg Coins & Collectibles.
# # #