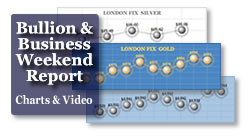 The strength in silver and gold eased slightly for the week while platinum experienced a dip.
London Fix Monday through Friday gold was down $6 to close at $973 Friday – one dollar higher than last Friday's close.
Silver passed a milestone in moving above $20 an ounce. However, London numbers had it up only $0.06 for the week and closing at $20.22. It was $.60 higher compared to last Friday, however.
Platinum took the largest hit by falling 3.7%, closing at $2,082 and losing $80.
In discussing gold prices, Stephen Briggs, economist at SG Corporate and Investment Banking, was quoted as saying:
"Compared with what it has done before, gold has slightly underperformed in the last week. My guess is that we are going to see a few more days of sharp swings.

"There is a huge uncertainty in the market after these massive gains we have seen this year. People are getting a bit nervous of the logic of such high prices in an environment of the U.S. remorselessly heading into a recession."
Many analsyst believe gold is certain to reach above $1,000 an ounce.
The silver, gold and platinum weekly charts are below. There is also an interesting Reuters video looking at the inside of one of America's largest gold mines and a Reuters business week wrap upvideo. Two related articles links are included as well.
CoinNews London Fix Charts: Silver, Gold and Platinum
(March 3-7)


The London Fix is one of the most used bullion quotes around the world. The London AM fix for gold and platinum begins at 10:30am GMT (5:30am in New York), and the PM fix begins at 3pm GMT (10am in New York). The London Fix for silver begins each business day at 12pm GMT (7am in New York).
London Fix numbers: percent and dollar change after Friday's close
| | | | | | |
| --- | --- | --- | --- | --- | --- |
| | Up | Down | Week % Change | Week $ Change | Friday Close |
| Silver | X | | 0.06% | $.06 | $20.22 |
| Gold | | X | -0.59% | $6 | $973 |
| Platinum | | X | -3.70% | -$80 | $2,082 |
Week change numbers are for Monday-Friday.
Reuters video: Inside America's gold mines
Here is an exclusive look inside one of America's largest gold mines by Reuters.
Bullion and business related articles for the week
In related news, interesting or quick-read articles:
Business week overview and wrap-up by Reuters News
U.S. stocks fall to 1-1/2 year low. The three major US indexes:
The Dow lost 146.70 points Friday to close at 11,893.69. It lost 3.0% for the week.

The S&P 500 lost 10.97 points Friday to close at 1,293.37.

The Nasdaq lost 8.01 points Friday to finish at 2,212.49. It lost 2.6% for the week.
The Reuters video recaps the business week.
CoinNews bullion and finance related collector tools
Bullion and finance tools that may interest you: