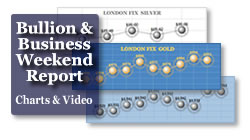 Platinum took third chair this week with silver and gold making record-breaking strides. The weakening U.S. dollar made its presence felt, pushing investors toward commodities.
On the New York Mercantile Exchange, gold for April made $978.50 and inched closer to $1,000 an ounce. The London Fix Monday through Friday gold was up $24 or 2.5% and closed to $972 Friday.
Silver also made headlines in approaching $20 an ounce. It was up a very impressive $1.56 for the five day week on the London Fix and closed at $19.62 an ounce.
"Investment demand for gold and the rest of the precious metals looks set to remain strong in the coming sessions as investors look to offset rising oil prices and continued dollar weakness," TheBullionDesk.com analyst James Moore said in a research note.
The silver, gold and platinum weekly charts are below as well as the Reuters business week wrap up video and three related articles.
CoinNews London Fix Charts: Silver, Gold and Platinum
(February 25-29)


The London Fix is one of the most used bullion quotes around the world. The London AM fix for gold and platinum begins at 10:30am GMT (5:30am in New York), and the PM fix begins at 3pm GMT (10am in New York). The London Fix for silver begins each business day at 12pm GMT (7am in New York).
London Fix numbers: percent and dollar change after Friday's close
| | | | | | |
| --- | --- | --- | --- | --- | --- |
| | Up | Down | Week % Change | Week $ Change | Friday Close |
| Silver | X | | 8.6% | $1.56 | $19.62 |
| Gold | X | | 2.5% | $24 | $972 |
| Platinum | | X | -0.5% | -$11 | $2,150 |
Week change numbers are for Monday-Friday.
Bullion and business related articles for the week
In related news, interesting or quick-read articles:
Business week overview and wrap-up by Reuters News
U.S. stocks lost suffered losses two days in a row afer economic and corporate results disapointed investors. The three major US indexes:
The Dow lost 315.79 points Friday to close at 12,266.39. It lost 0.9% for the week.

The S&P 500 lost 37.05 points Friday to close at 1,330.63.

The Nasdaq lost 60.09 points Friday to finish at 2,271.48. It lost 1.4% for the week.
The Reuters video recaps the business week.
CoinNews bullion and finance related collector tools
Bullion and finance tools that may interest you: