Two firsts meet — Australia's very first coin and its very first million dollar coin — at the Coinworks Dollars & Dumps Exhibition in Melbourne.
The Australian Proof 1930 Penny is valued at more than one million dollars. Alongside the penny, and not to be short-changed by much in comparative uniqueness, if at all, is the first Australian coin, the 1788 Holey Dollar.
These two coins have been described as iconic. It's easy to see why. The Proof 1930 Penny, 1778 Holey Dollar and several other rare coins make up an over $4 million presentation from Coinworks. That presentation can be viewed through November 30.
History of the Holey Dollar, Dump and 1778 Holey Dollar
Fewer than 300 Holey Dollars are known to exist. These coins were originally made using various imported Silver Spanish Dollars. Holes were punched through the dollars, creating two Australian coins. The ring became the Holey Dollar while the punched out portion became the Dump.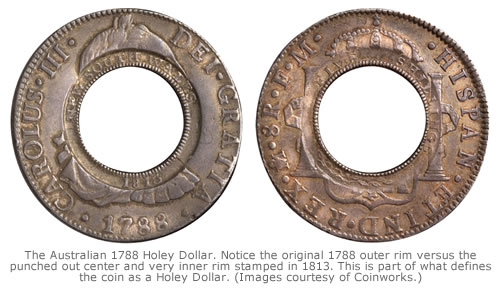 When you look at a Holey Dollar, the outer rim looks just like the original coin, with date and all, while the innermost portion contains the newer stamping, with newer date and markings.. Once "changed", the coin became five shillings, or the Holey Dollar.
The smaller disc or punched out hole became fifteen pence, or the "Dump".
The history of the Holey Dollar is fascinating and the possible variations of the coin are just as intriguing to the collector's mind. Because the coins were imported, Holey Dollars can have differing dates, monarch portraits, originating mints, condition and even metallic compositions. That's only one part of the coin's "make-up". The other part is the inner Australian stamping and its uniqueness.
The 1778 Holey Dollar on exhibit experienced 35 years of circulation before getting punched and converted to an Australian dollar. However, as you can see, the very outer ring shows very good detail just as the inner, re-stamped ring. That alone makes it extremely rare.
The Australian Proof 1930 Penny
The Proof 1930 Penny is spectacular looking.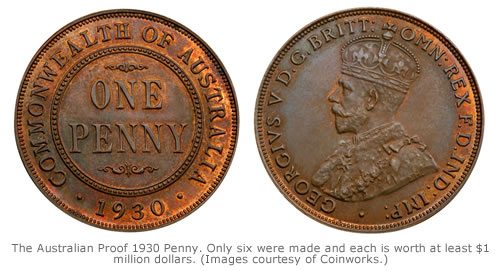 Coinworks describes an interesting history for the coin:
Only six were made, and all are accounted for
They were intended as showpieces – a perfected 1930 Penny
Each were struck at the Melbourne Mint
Polished blanks and specially treated dies were used in making them
The six coins are each worth over $1 million. According to Coinworks, one is held by the British Museum, a second by the Museum of Victoria, and a third by the Art Gallery of South Australia. The remaining three coins are held by private collectors.
The location and time of the Dollars & Dumps Exhibition
It's possible to see the Dollars & Dumps Exhibition at:
Dollars & Dumps in the Cathedral
November 27 – 30, 2007
The Cathedral Room, ANZ Gothic Bank
Collins Street Melbourne 10.00 – 4.00pm daily
Admission by gold coin donation to Whitelion