This morning, November 19, the United States Mint unveiled artist renderings of the First Spouse Gold coin designs for 2008. Each will be 24-karat (.9999-fine), 1/2-ounce in weight and are a continuation of this year's spousal coins that have sold out within hours of their release.
The forth coin in this series, the Dolley Madison First Spouse Gold coin, went on sale today at 12 noon (ET).
Two of the 2008 coins will commemorate Elizabeth Monroe and Louisa Adams. In addition, there will be two symbolic Lady Liberty designs for Andrew Jackson and Martin Van Buren, who did not have spouses while in office.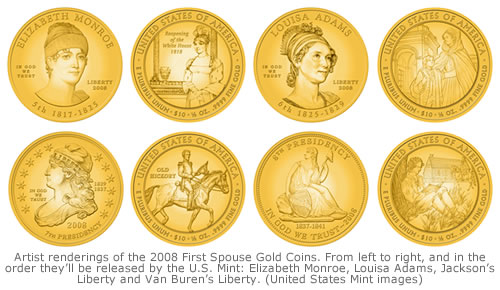 For more information regarding the gold coin series, visit the U.S. Mint or the CoinNews sister site about First Spouse Gold Coins.