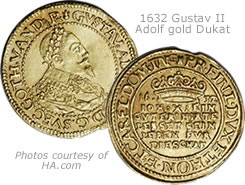 In an unusual case, a judge decided that one of five stolen Swedish rare coins purchased at a garage sale — a Swedish 1632 Gustav II Adolf gold Dukat — would be returned to the daughter of the woman who bought them, and not to the owner's estate who received the other four.
"This case raises squarely the conflict between two principles, protection of property and protection of commercial transactions," said British Columbia Supreme Court Justice Bruce Butler who ruled to split the coins.
To better understand Justice Butler's decision, background information provided in the case offers an excellent history of events.
Coins purchased in garage sale
Marina Ovsenek was on her way to a cancer treatment with her daughter, Stephanie Manning, when they happened by a garage sale sign. They decided to stop, and Ms. Ovsenek bought a box containing five gold-colored coins and a brooch for $5.
Read the rest of this numismatic news article »
{ 2 comments }