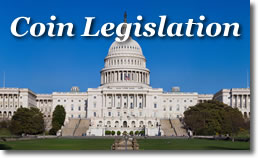 Up to 500,000 $1 silver coins and 100,000 $5 gold coins will be struck in 2011 by the United States Mint as authorized by the Medal of Honor Commemorative Coin Act of 2009 which President Obama signed into law Friday, Nov. 6, 2009.
The collector minted proof and uncirculated coins will mark the 150th anniversary of the establishment of the Medal of Honor in 1861, America's highest award for valor which can be bestowed upon an individual serving in the Armed Services of the United States.
"We owe everything to those who wore the uniform and committed extraordinary acts of bravery in defense of their colleagues and nation," said Rep. Christopher Carney who introduced the legislation which easily passed in the House and then the Senate.
Read the rest of this numismatic news article »
{ 3 comments }