A new elegant Britannia design adorns freshly minted 2008 United Kingdom silver and gold collector coins launched by The Royal Mint. The bullion proof coins bear a standing portrait of Britannia, incorporating the motifs of the lighthouse, the trident, the shield and the helmet, as waves crash in the background.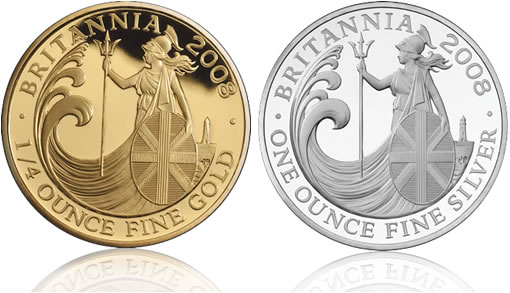 "She [Britannia] almost appears to form part of the sea that surrounds and protects the British Isles."
The new design rendered by John Bergdahl is the latest depiction of Britannia, and the seventh in the series since it was introduced in 1987. It's featured on the reverse or tails side of the silver proof £2, £1, 50p and 20p coins as well as the gold proof £100, £50, £25 and £10 coins.
The obverse or heads side of each bullion coin bears the portrait of Her Majesty The Queen by Ian Rank-Broadley FRBS.
Read the rest of this numismatic news article »
{ 1 comment }