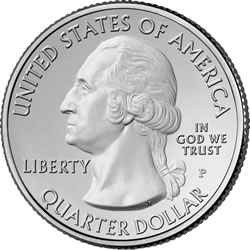 Next year's America the Beautiful Quarter design candidates have already been created and reviewed, although the final selections for this year's reverse designs are yet to be announced.
The 2011 quarters will release into circulation like the United States Mint favors, versus the accelerated time-frame the public will witness for 2010 quarters
The legislation approving the new park and site quarters was only signed into law by President George W. Bush on December 23, 2008. (Read about the recent coin forum where US Mint Director Moy discusses quarters.)
As a result, before this year's designs came to fruition, the US Mint had to first go through the process of actually creating the America the Beautiful Quarters Program, line up the 56 national park and other national sites to be honored, coordinate with the overseeing authority for each site, and get production and other Mint procedures ramped up — all in span of a few months.
Read the rest of this numismatic news article »
{ 1 comment }