The following charts and tables show the detailed production of circulating state quarters from the start of the U.S. Mint 50 State Quarters® Program in 1999 to its conclusion in 2008. From this page, you can easily find which states the Mint issued the most quarters for, how your state compares to others, how many commemorative quarters were minted in Denver or Philadelphia, as well as year-by-year totals.
The figures represent all the circulating quarters issued, plus the coins sold in the Mint's bag and rolls program. They do not include quarters found in collectors products, like proof and uncirculated mint sets.
In total, the US Mint produced 34,797,600,000 state quarters. Virginia tops the list for the state with the most state quarters while Oklahoma is at the bottom.
Chart: Circulating State Quarter Mintage Totals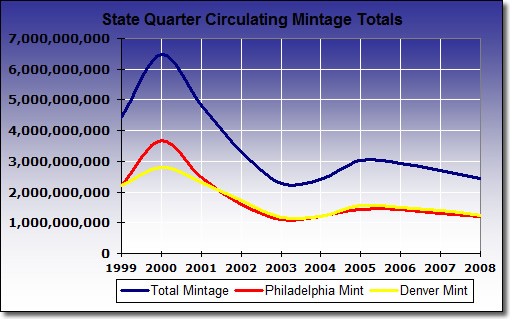 Chart: Top 25 Produced State Quarters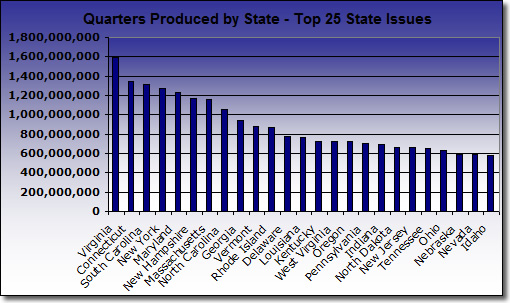 Chart: Bottom 25 Produced State Quarters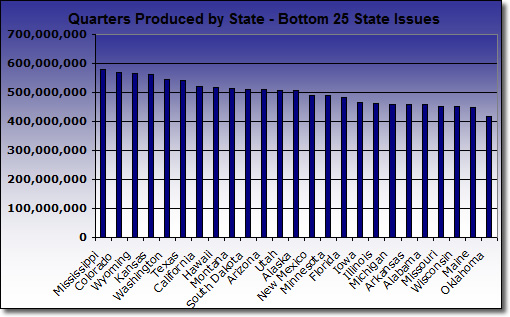 Tables of State Quarter Production Figures by Mint, State and Year
2008 Quarter Mintage Figures
2008 State Quarters

Denver

Philadelphia

Total

Oklahoma
194,600,000
222,000,000
416,600,000
New Mexico
244,400,000
244,200,000
488,600,000
Arizona
265,000,000
244,600,000
509,600,000
Alaska
254,000,000
251,800,000
505,800,000
Hawaii
263,600,000
254,000,000
517,600,000

2008 Quarter Production: 2,438,200,000
2007 Quarter Mintage Figures
2007 State Quarters

Denver

Philadelphia

Total

Montana
256,240,000
257,000,000
513,240,000
Washington
280,000,000
265,200,000
545,200,000
Idaho
286,800,000
294,600,000
581,400,000
Wyoming
320,800,000
243,600,000
564,400,000
Utah
253,200,000
255,000,000
508,200,000

2007 Quarter Production: 2,712,440,000
2006 Quarter Mintage Figures
2006 State Quarters

Nevada
312,800,000
277,000,000
589,800,000
Nebraska
276,400,000
318,000,000
594,400,000
Colorado
294,200,000
274,800,000
569,000,000
North Dakota
359,000,000
305,800,000
664,800,000
South Dakota
265,800,000
245,000,000
510,800,000

2006 Quarter Production: 2,928,800,000
2005 Quarter Mintage Figures
2005 State Quarters

California
263,200,000
257,200,000
520,400,000
Minnesota
248,400,000
239,600,000
488,000,000
Oregon
404,000,000
316,200,000
720,200,000
Kansas
300,000,000
263,400,000
563,400,000
West Virginia
356,200,000
365,400,000
721,600,000

2005 Quarter Production: 3,013,600,000
2004 Quarter Mintage Figures
2004 State Quarters

Michigan
225,800,000
233,800,000
459,600,000
Florida
241,600,000
240,200,000
481,800,000
Texas
263,000,000
278,800,000
541,800,000
Iowa
251,400,000
213,800,000
465,200,000
Wisconsin
226,800,000
226,400,000
453,200,000

2004 Quarter Production: 2,401,600,000
2003 Quarter Mintage Figures
2003 State Quarters

Illinois
237,400,000
225,800,000
463,200,000
Alabama
232,400,000
225,000,000
457,400,000
Maine
231,400,000
217,400,000
448,800,000
Missouri
228,200,000
225,000,000
453,200,000
Arkansas
229,800,000
228,000,000
457,800,000

2003 Quarter Production: 2,280,400,000
2002 Quarter Mintage Figures
2002 State Quarters

Tennessee
286,468,000
361,600,000
648,068,000
Ohio
414,832,000
217,200,000
632,032,000
Louisiana
402,204,000
362,000,000
764,204,000
Indiana
327,200,000
362,600,000
689,800,000
Mississippi
289,600,000
290,000,000
579,600,000

2002 Quarter Production: 3,313,704,000
2001 Quarter Mintage Figures
2001 State Quarters

New York
619,640,000
655,400,000
1,275,040,000
North Carolina
427,876,000
627,600,000
1,055,476,000
Rhode Island
447,100,000
423,000,000
870,100,000
Vermont
459,404,000
423,400,000
882,804,000
Kentucky
370,564,000
353,000,000
723,564,000

2001 Quarter Production: 4,806,984,000
2000 Quarter Mintage Figures
2000 State Quarters

Massachusetts
535,184,000
628,600,000
1,163,784,000
Maryland
556,532,000
678,200,000
1,234,732,000
South Carolina
566,208,000
742,576,000
1,308,784,000
New Hampshire
495,976,000
673,040,000
1,169,016,000
Virginia
651,616,000
943,000,000
1,594,616,000

2000 Quarter Production: 6,470,932,000
1999 Quarter Mintage Figures
1999 State Quarters

Delaware
401,424,000
373,400,000
774,824,000
Pennsylvania
358,332,000
349,000,000
707,332,000
New Jersey
299,028,000
363,200,000
662,228,000
Georgia
488,744,000
451,188,000
939,932,000
Connecticut
657,880,000
688,744,000
1,346,624,000

1999 Quarter Production: 4,430,940,000
For a breakdown of other circulating U.S. coins produced through the years, check out the CoinNews pages: