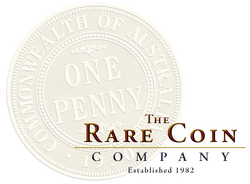 Queensland, Australia. The Rare Coin Company is poised to set yet another world record when it bids to acquire the very first Australian Commonwealth Banknote ever printed, the 1913 Ten Shilling note.
Rob Jackman, the Company's founder will attend the International Auction Galleries auction at the Sofitel Hotel Gold Coast in Queensland on Sunday 9th of March 2008 from 3pm. It is estimated that the banknote is valued at $1.3 to $1.4 million dollars and that the auction will attract a number of major coin dealers and private collectors.
If successful, this will be the second time in less than four months that The Rare Coin Company has set a new world record for the price paid for an Australian banknote at public auction. In November 2007, the Company paid $1,223,250 dollars for an Australian 1924 George V One Thousand Pound banknote, which was sold at auction by Nobles Numismatics in Sydney.